December 01, 2008
Union dues: Obama may feel pressure to back 'card check'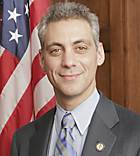 White House Chief of Staff Rahm Emanuel
President-elect Barack Obama's transition team was facing an onslaught of advice, and what some could call threats, after winning the popular vote Nov. 4.

One of the brashest voices came from union advocates, who called for quick action on a so-called "card-check" bill.
The Service Employee International Union (SEIU) also announced it and three other groups would spend $1 million in an advertising blitz urging the president-elect to focus on healthcare reform during his first 100 days in office.
One SEIU official commented that the groups would run the advertising effort as if it were a presidential campaign, and their candidate is healthcare reform, according to a published report.
"What he owes to the unions clearly is a negative," noted Sun Healthcare Board Chairman Richard Matros, speaking before the election at the National Association for the Support of Long Term Care annual conference. 
While some others agreed, they noted certain softening factors could come into play. Above all, most observers believed that healing the overall economy would push most healthcare initiatives to a backburner for the new president.
And while many expect Obama to push for universal healthcare coverage, some close aides, including Obama's chosen chief of staff, Rahm Emanuel, have suggested that healthcare reform might be approached one piece at a time instead of in one sweeping attempt.