May 15, 2017
Two SNF employees, police chief among dead in nursing home shooting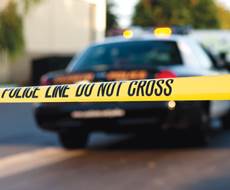 Residents and staff inside the facility barricaded themselves during the incident, police say.
Two Ohio nursing home employees and a police officer are dead following a shooting at the facility Friday morning.
The incident occurred early Friday at Pine Kirk Care Center, a skilled nursing facility located in Kirkersville, OH. Kirkersville Police Chief Steven Eric DiSario responded to a call reporting a man with a gun in the street near the facility; officers arriving as backup found DiSario shot outside. He was taken to a local hospital, where he died soon after. DiSario, who had been serving as chief for three weeks, was a father of six, with another one on the way.
Authorities found nurse Marlina Medrano, nurse aide Cindy Krantz and the gunman, Thomas Hartless, dead inside of Pine Kirk. Investigators believe Hartless died of a self-inflicted gunshot wound, according to local media outlets. Medrano and Hartless previously had a history of a "volatile relationship," the Hartford Advocate reported; she had filed for a protection order from him earlier this month.
"It is a secure facility," Licking County Sheriff Randy Thorp said of Pine Kirk during a press conference Friday afternoon. "How he got in we don't really know at this time."
None of Pine Kirk's 23 residents were reported to be injured during the incident; they were removed from the facility and taken to area hospitals. Some of the staff and residents barricaded themselves during the shooting, Thorp said.
"I don't know that they used any sort of protocol, maybe it was just common sense on their part to lock themselves in their rooms," Thorp said. "We did discover as we were clearing the nursing home that they did barricade themselves in some of the different areas."
Two people outside the facility were also held hostage during the incident but were unharmed, authorities said. It was not clear whether they were affiliated with the nursing home.
Ohio Gov. John Kasich (R) ordered flags be flown at half-staff in honor of those killed, and joined most state lawmakers in issuing statements extending their condolences.
The last mass shooting at a nursing home was in 2009, when a gunman killed seven residents and a nurse at Pinelake Health and Rehabilitation Center in Carthage, NC.