December 06, 2016
Trump card: ACA's future now in doubt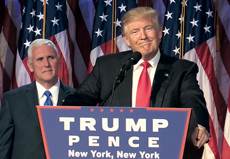 Long-term care and other healthcare experts scrambled in the days following Donald Trump's upset victory to grasp what his presidency might mean.
While President-elect Donald J. Trump has promised to repeal the Affordable Care Act, long-term care experts noted that coordinated care for seniors is likely to remain a priority under him.
"It is quite unlikely that the force of ACO [accountable care organizations] and bundled payment changes will go away with a new administration," said Cheryl Phillips, M.D., the senior vice president of public policy and services at LeadingAge. Additionally, Republicans have traditionally been more positive about managed care and population-based reimbursement models, which is "very unlikely to suddenly stop."
She suspects, however, that much of the funding for the Center for Medicare & Medicaid Innovation will be cut.
It was unclear whether Congress would want to repeal the entire ACA or only specific parts related to insurance, said NASL executive VP Cynthia Morton.