February 08, 2017
Troubled nursing home petitions Supreme Court to preserve its Medicare, Medicaid certifications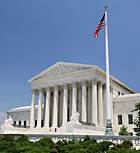 The petition was filed with the Supreme Court on Friday.
A Florida skilled nursing provider that filed for bankruptcy has asked the U.S. Supreme Court to save it from being excluded from the Medicaid and Medicare programs.
In a petition filed on Friday Bayou Shores SNF LLC requested the court review a recent appeals court ruling that allowed health officials to terminate the provider agreement for the operator's St. Petersburg, FL, facility, even though the provider had filed for bankruptcy protection.
An earlier court ruling had permitted the facility to continue to receive Medicare and Medicaid reimbursements while it reorganized. A bankruptcy court then changed course and permitted state health officials to continue the process of revoking the provider agreements, citing an Immediate Jeopardy situation that could endanger residents.
The case has since been cited by other judges to argue that bankruptcy courts do not have the authority to make decisions involving provider agreements, according to Bloomberg BNA.
"[The Department of Health and Human Services], not the bankruptcy court, has been charged by Congress with administering the Medicare Act and regulating Medicare providers," wrote Judge Raymond Clevenger III in the appeals court's July ruling. "And though charged with broad jurisdiction ... bankruptcy courts generally lack the institutional competence or technical expertise of HHS to oversee the health and welfare of nursing home patients."
A response to the petition from HHS or the Florida Agency for Health Care Administration would be due by March 6.