March 04, 2015
The 2015 McKnight's Online Expo is here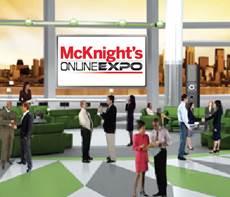 The expo environment simulates virtually every aspect of a traditional show.
Many people might might associate March with spring break.
McKnight's readers, however, have come to know it as spring "boost" time.
That's because for the ninth year in a row, the McKnight's Online Expo is taking place the last week of March. There will again be five sessions led by nationally respected experts, with an opportunity to receive five continuing education (CE) credits — all for free.
Nearly 5,000 CE credits were awarded at last year's expo.
The sessions begin at 10 a.m. Eastern Time on March 25. The last starts at 1 p.m. ET March 26.
Full registration information can be found at
www.mcknights.com/expo2015
All you need is a connection to the Internet and a good place to soak up the discussion.
Attendees can ask questions of the speakers in real time, or inquire about cutting-edge products and services featured in the virtual exhibit hall. Vendor representatives will be on hand to answer all inquiries, no matter how big or small, and will offer research reports and opportunities to win prizes.
Nearly 4,000 attended last year's event, and organizers are expecting another record crowd this year.
Superlative speakers
There is perhaps no more challenging or harrowing wound care topic than pressure ulcers. That's why the event begins with "The current science of pressure ulcer prevention (Or It's Still Rock and Roll To Me)" at 10 a.m. Eastern on March 25.
Janice M. Beitz, a pre-eminent professor of nursing at Rutgers University, will bring her vast knowledge and teaching skills to bring attendees up to date on the latest advances.
"Just when you think you have seen and done it all, the science changes," Beitz says. "Clinicians in long-term care and other healthcare settings are striving to prevent pressure ulcers. But for too long, ritual, and not science, has been the best guidance."
The recently inducted Fellow of the American Academy of Nursing vows to have fun while guiding attendees to teach even the most experienced clinicians new approaches to pressure ulcer care.
Providers also know very well that it takes steady capital to keep a long-term care operation on its feet. That's why the next session, "2015 seniors housing capital market trends — and influencing factors," will be a popular one.
Beth Burnham Mace, chief economist for the National Investment Center for the Seniors Housing & Care Industry, will guide attendees at this 11:30 a.m. (ET) session through all they need to know.
"The fundamentals in this sector have improved as the overall economy has started to improve," she explains. "What we saw during the Great Recession is that the seniors housing sector was resilient to the effects of the overall economy, but it was affected."
The final session on March 25 starts at 1 p.m. ET and will be lead by the always popular Leah Klusch, executive director of the Alliance Training Center. "MDS 3.0 Update: Know the new requirements, or else" will explain the latest changes in the MDS, and forecast lies ahead.
"MDS 3.0 has had a major impact on the clinical assessment process, state survey outcomes, quality measures reporting and reimbursement," Klusch notes. "Your organization needs to understand these changes in order to put them in place correctly."
Klusch is quick to remind administrators that the onus is on them to submit correct billing and other paperwork. Her talk will explain how to stay clear of trouble.
Ignoring or putting off payment issues is not a good idea, especially now, she adds.
"This isn't rocket science, but you have to get it right," Klusch emphasizes.
Partners, having fun
The first session on March 26, which starts at 11 a.m. ET, will address "Ways to reduce rehospitalizations and attract partners."
Ellen Rychlik, RN, BSN, will give details on how an effective staffing model can fully leverage nurses' expertise. She'll also impart practical caregiving and managerial tips to achieve the outcomes needed for keeping rehospitalization rates low.
Rychlik will give a real-world example of what one organization has done to prepare its staff and systems to become a "partner of choice."
"Many organizations do not even know where to begin," she says.
Providers' answers often lie within, she noted.
"They need to first look at what they do best, identify their weaknesses and monopolize on their strengths," she stresses. "They need to develop systems that support their goals, once identified, and effectively change the organizational culture to sustain that of their efforts. Then, and only then, will they become the 'partner of choice.'"
The event's final session hits on a universal topic: How to provide a person-centered approach to recreational programming, and gain insights into the development, implementation and best practices of the Match Quality Indicator system.
Tori Crumbie, CTRS, and Karen Eshraghi, MSW, of the Madlyn and Leonard Abramson Center for Jewish Life will give details of their Polisher Institute award-winning program.
"Those who come will learn about how to infuse resident voice and preferences into the program planning process," says Crumbie, the director of recreation for the Mildred Shor Inn.
Among other things, attendees at the 1 p.m. (ET) session also will learn of the speakers' clever record-keeping processes, including an Excel spreadsheet that works for providers without electronic charting or recreation attendance.