November 05, 2015
Technology solutions shine in 4th annual McKnight's Excellence in Technology Awards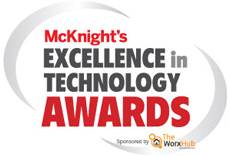 McKnight's Technology Awards
The success stories submitted to the 4th annual McKnight's Excellence in Technology Awards competition showcased how savvy providers put tech to use in meeting the needs of their residents and staff. From installing interactive fitness bikes to engage residents' bodies and minds, to developing an electronic management system that saves valuable staff time, this year's submissions impressed our independent judging panel with a wide range of tech solutions.
Rosewood Senior Living, Mid-Atlantic Health Care, Charles E. Smith Life Communities, Morning Pointe Assisted Living, and Colonial Park Care Center all won Gold Awards in this year's contest, which was sponsored by TheWorxHub by Dude Solutions.
Colonial Park Care Center video conferencing wins Gold
Telehealth tech lowers costs and readmissions
Colonial Park Care Center in Harrisburg, PA, uses the InTouch Telehealth Network to bring the expertise of physicians into its skilled nursing facility.
The telehealth machine brings the patient and physician face-to-face through video conferencing, allowing the physician to zoom in and focus on the specific body parts. The network also gives physicians full access to patients' medical records, imaging and laboratory tests.
The response from residents and their families has been positive, Colonial Park administrators say. Since its inception, Colonial Park's telehealth system has brought about a 6% decrease in hospital readmissions, and saved the facility $250,000 over one year.
The Transitions Silver Award went to Brittany Manor, a skilled nursing facility serving the community of Midland, MI. Brittany Manor's administrators identified weaknesses in its outdated paper-based systems and knew it was time for a change. The facility received a full-fledged tech overhaul with new wiring, desktop computers, mobile workstations, tablets and a streamlined EMR. Brittany Manor's 30-day return to hospital rate has dropped from 33.3% to 13.3%, which administrators say is partly due to their beefed-up alert system.
Roland Park Place of Baltimore earned the Bronze Award for implementing an integrated technology strategy, including a new wireless network, improved EHR system and automated check in for independent residents. The facility reports the upgrades have improved resident quality of life by increasing connectivity and privacy.
Certificates of Merit were won by Artman, a Liberty Lutheran home in Ambler, PA, for its use of telemedicine technology; Alaris Health of New Jersey for its StayConnected! smartphone app; and Cherry Creek Nursing and Rehabilitation Center in Aurora, CO, for its pilot of the Music Memories Matter program, a music-based intervention for patients with dementia.
Rosewood Senior Living wins for innovative integration
New technology makes for 'magical' year on campus
Tech upgrades across ABHOW's Rosewood Senior Living campus in Bakersfield, CA, brought increased connectivity between staff, residents and their families.
Rosewood gives staff members iPads loaded with TheWorxHub Operation Software, which allows transportation, maintenance and other staff to work and plan their days remotely. Rosewood also installed a Wi-Fi network across the campus.
Free Wi-Fi has prompted loved ones to purchase tablets, keeping families in widespread areas more connected through email, Skype and Facebook, explain Rosewood administrators.
The campus uses the Sara Nurse Call system, as well as Relative Peace of Mind, which projects appointment reminders and messages from family onto the walls of residents' rooms, to increase resident safety and communication.
Residents further benefit from the facility's installation of two CyberCycle fitness bikes, which allow residents to play a video game while they pedal — and share in some healthy competition with other residents, staff and senior communities, thanks to the bikes' Internet capabilities.
"I have lived here for eight years and this year was a magical year for technology," says resident John Friauf.
The Silver Innovator award went to Arbors of Hop Brook in Manchester, CT, for integrating the Novaerus airborne pathogen control system. Six months after installing Novaerus, the average length of stay was reduced by 5.4%, and average readmission rates decreased 7.13%.
Taking home the Bronze Award for innovation is the Dr. Susan Smith McKinney Nursing & Rehabilitation Center in Brooklyn, NY, for its use of patient care systems to improve resident care and the bottom line.
Earning Certificates of Merit for innovation efforts were Hebrew Home at Riverdale in the Bronx, NY; Park Ridge Care Center in Shoreline, WA; Franciscan Ministries in Lemont, IL; and Cedarvale Terrace Long Term Care Home in York, Ontario.
Charles E. Smith Life Communities earns Gold for Dignity
Brain Fitness Center uses resident-tailored games
Charles E. Smith Life Communities, a campus of six senior living facilities in Rockville, MD, drew inspiration from the video game industry in creating its own interactive memory care software. Disappointed in the options the gaming industry presented for seniors, the staff at Charles E. Smith set out to build an in-house program to help enhance its memory care.
"It has been rewarding to apply gaming and innovative technologies to improve memory care for seniors," says An Cao, director of IT. "This population is often overlooked when decisions about investing in technology are made."
Charles E. Smith uses dashboards called Brain Fitness Centers in its memory care "gym," each one loaded with memory challenges, brain games and activities. Some games are created in-house, while others are purchased from companies such as Dakim.
The games and challenges are accessible through ergonomic touchscreens, and residents can choose games personalized to their religion, hometown, past careers and other groups. Games also can be tailored to any residents' cognitive level — "It's never one size fits all," Cao says.
The Silver Award for Dignity went to Mather LifeWays in Evanston, IL, for its innovative art therapy program. A highlight of it is the introduction of a stop-motion animation component, which gives residents a chance to create short films using an iPad camera and objects of their choosing.
Front Porch Center for Innovation and Wellbeing, a California-based nonprofit, scored the Bronze Award for SingFit and Music & Memory. The music-based interventions use songs and curated playlists to stimulate physical movement and cognition in residents.
Certificates of Merit went to Reformed Church Home in Old Bridge, NJ; Windsor Healthcare Communities of New Jersey; Vermont Veterans' Home; and Toby Weinman Assisted Living Residence at Menorah Manor in St. Petersburg, FL.
Morning Pointe's Alzheimer's efforts garner Gold Award
Enrichment program helps enrich dementia residents
Morning Pointe Assisted Living, which operates 24 assisted living and memory care communities in the Southeastern U.S., met the demand for better Alzheimer's care programs with the development of Meaningful Day, a structured enrichment program built around residents' biological rhythms and predictability.
Meaningful Day, when partnered with technology platform SimpleC, improves Morning Pointe's staff-resident interaction, gives each resident a personalized program of care and helps residents' loved ones become more involved with their care.
Morning Pointe CEO and President Greg A. Vital stresses the importance of partnerships between providers and companies like SimpleC, which "allows us as senior healthcare providers to be leaders in delivering services for people with Alzheimer's."
Signature Healthcare of Fentress County, of Jamestown, TN, earned the Silver for utilizing ReadyMD, a video-based telehealth technology. ReadyMD has had a "profound" impact on residents, their families and the facility itself, according to Signature officials.
Alliance Nursing and Rehabilitation Center in El Monte, CA, took home Bronze for its implementation of an electronic medical record system that uses touch screen devices to make patient data accessible from anywhere in the facility.
Certificates of Merit were awarded to Signature HealthCARE, Trilogy Health Services and Elim Care Inc.
Mid-Atlantic Health Care system tops Quality field
Transights system bolsters the provider's bottom line
Mid-Atlantic Health Care, a skilled nursing and rehabilitation provider with facilities in Maryland, Pennsylvania and Delaware, achieves quality through technology with its homegrown clinical outcomes system.
Transights, developed by Mid-Atlantic and spun off into a separate entity called Real Time Medical Systems, gives SNF staff an intuitive, real-time dashboard presenting patient data such as weight loss and antipsychotics. The system also immediately informs staff when a patient has additional needs.
Since implementing Transights, Mid-Atlantic has reported a 50% reduction in readmissions. Mid-Atlantic founder Scott Rifkin, M.D., said Transight's ease of use has helped boost the company's bottom line.
"We also improved revenue because we know when our patients should be reevaluated from an MDS perspective," Rifkin says.
Earning the Silver Award for quality is Pennsylvania's Country Meadows Retirement Communities, which created an e-learning model for its assisted living staff on 13 clinical topics, including falls, diabetes and wounds.
Bringing home the Bronze was Elizabeth E. Martin Health Center in Cedar Falls, IA, for its enhanced experiences with It's Never 2 Late.
Gateway Care and Retirement in Portland, OR, and Hillside Manor of Beaver Dam, WI, earned Certificates of Merit for an integrated electronic health records system and an alert system to keep tabs on patient care quality, respectively.