May 04, 2010
Tavenner named acting administrator of Centers for Medicare & Medicaid Services during Berwick confirmation process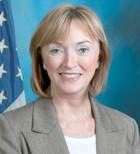 CMS Administrator and Secretary of the Medicare Trustees Marilyn Tavenner

Marilyn Tavenner will serve as acting administrator at the Centers for Medicare & Medicaid Services while Donald Berwick undergoes Senate confirmation proceedings, according to a report from the Bureau of National Affairs.

Tavenner is the principal deputy administrator at CMS, and also serves as the agency's chief operating office. She will return to her role as deputy when a permanent administrator is confirmed, BNA reports. Before joining CMS, Tavenner had been the secretary for health and human resources in Virginia.

Previous acting administrator Charlene Frizzera will remain at CMS to help with the implementation of healthcare reform, according to BNA, which cites an internal CMS email as its source.