April 18, 2012
Survey expert provides insight on most common deficiencies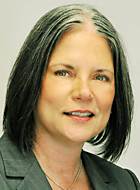 Linda Elizaitis, RNC, RAC-CT, BS
A nursing home survey expert gave providers a cheat sheet to the most common deficiencies — and how to avoid them — in the first McKnight's Super Tuesday webcast of 2012.
Linda Elizaitis, president of CMS Compliance Group, said the most common nursing home citations have to do with kitchen sanitation, infection control, management of resident care plans and medication dispensing procedures.
State surveyors also have honed in on matters of resident dignity, according to Elizaitis, who added that a lot of "gotcha" citations result when nurses and CNAs fail to knock on a resident's door before entering.

But there are plenty of steps facilities can take to prevent common citations.
"You should be interviewing your residents and their family members and share as much of this information as you can," Elizaitis stressed. "Operators need to understand the survey process. They need to know exactly what the surveyor is going to do from the minute they walk into the building and until they leave."
Don't forget to sign up for June's Super Tuesday session — a reimbursement update with Pat Boyer — which can help you earn one free continuing education credit. Click here to register for the June 5 event. Super Tuesday is part of the Sixth Annual McKnight's Online Expo.