February 24, 2017
Supreme Court weighs widespread impact of SNF arbitration case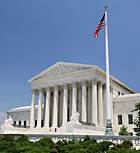 The case was argued in the Supreme Court on Wednesday.
The U.S. Supreme Court's decision in a nursing home arbitration agreement case could have a broader effect on lawsuits involving the power of attorney, according to arguments heard Wednesday.
Kindred Nursing Ctrs. LP v. Clark consolidated three wrongful death cases in which nursing home arbitration agreements were signed by someone with power of attorney for the resident. The Supreme Court of Kentucky sided with the plaintiffs, finding that residents' arbitration agreements were not binding since the people with power of attorney were not specifically granted permission to sign such agreements.
Kindred, along with other providers who filed briefs in support, asked the Supreme Court to review the Kentucky court's decision on the grounds that "the Federal Arbitration Act and a stated federal policy in favor of arbitration preempt the state court's general rule requiring a power of attorney to explicitly include the authority to enter into arbitration agreements," Bloomberg BNA reported.
Robert Salyer, an attorney representing the residents' estates, noted that Kentucky law requires that "powers of attorney are to be strictly interpreted," and that other businesses that require a power of attorney, including banks, ask for explicit information regarding arbitration.
Many of Wednesday's arguments focused on the scope of the Kentucky high court's decision, and how it could impact issues outside of arbitration. Justice Elena Kagan also mulled whether the Kentucky court's decision — which the American Health Care Association and the Kentucky Association of Health Care Facilities called "erroneous" in its amicus brief — should be changed at all.
"Usually we don't presume that State courts are acting in ways that are not in accordance with law," Kagan said. "Actually, we usually give them the benefit of a kind of good faith presumption."
Justices also questioned Andrew Pincus, an attorney representing Kindred, if the arbitration agreements' enforceability should be affected since they were part of a nursing home admission agreement.
"This doesn't involve an arbitration about the amount that you were charged for your cable bill or for your telephone bill," Justice Samuel Alito said. "This involves a situation where an elderly person needs care."