April 25, 2016
Supreme Court declines second Golden LivingCenters arbitration suit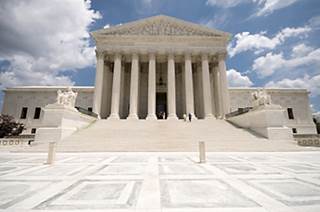 The Supreme Court passed on hearing an appeal in a similar case last month
The U.S. Supreme Court chose not to review a nursing home arbitration case involving Golden LivingCenters on Monday, echoing a decision made on a similar case last month.
The case declined by the court this week, Beverly Enters., Inc. v. Cyr, involves a nursing home arbitration agreement that hinges on the National Arbitration Forum, which no longer arbitrates consumer disputes.
Defendant Judy Cyr, whose mother died while receiving care at Golden LivingCenters - Windemere in Augusta, GA, sought to dismiss a motion to compel arbitration her wrongful death lawsuit against the facility, claiming her mother's arbitration agreement was unenforceable because it relied on the NAF.
The high court's decision not to hear an appeal in the case preserves a July ruling by the U.S. Court of Appeals for the Eleventh Circuit, which found the NAF's arbitration code to be "an essential part of the agreement." An earlier court decision had ruled in favor of the facility, saying the forum choice was not integral to the arbitration contract.
Monday's decision follows a similar refusal for review last month involving Golden LivingCenters and HCR ManorCare facilities in Pennsylvania, and makes for the latest in a series of federal and state court decisions that have deemed some arbitration agreements unenforceable because they rely solely on the NAF code.
Golden LivingCenters pushed the Supreme Court to hear an appeal and reverse the ruling in the first case, Wert v. ManorCare of Carlisle, claiming an earlier court rulings "failed to honor the strong federal presumption in favor or arbitration."