October 13, 2008
Supplemental compliance program guidance available for nursing facilities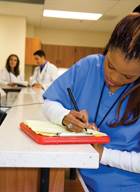 Many nurses like the boss better than the big wheels

The Office of Inspector General has supplemented 2000 compliance program guidance for nursing facilities.

The supplemental CPG, which the OIG issued on Sept. 30, now contains new compliance recommendations and more discussion of risk areas. It takes into account, among other issues, Medicare and Medicaid nursing facility payment systems and regulations, changing industry practices and enforcement priorities.

It also offers voluntary guidelines to assist nursing facilities in identifying significant risk areas and refining ongoing compliance efforts.