January 03, 2012
Study shows pay cuts expected to cost jobs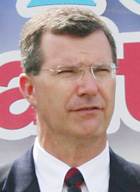 Pete Van Runkle, Ohio Health Care Association, Executive Director

OHIO — The state's skilled nursing facilities have shed or plan to shed 2,800 jobs in the wake of recent Medicare and Medicaid cuts, new survey results show.

The Ohio Health Care Association and Academy of Senior Health Sciences conducted the survey in September. The survey is believed to be the first of its kind and reflects what is happening in other states, said Alan G. Rosenbloom, the president of the Alliance for Quality Nursing Home Care.

He said the loss of jobs reinforces what Avalere Health found in November. It said then facilities could lay off up to 25,000 long-term care employees nationwide.

Pete Van Runkle, the executive director of the OHCA, said members had a "real shock" when regulators announced the average 11.1% reduction in Medicare reimbursement. "That is more like 12% to 13% in Ohio," he noted.


WEST

LTC 'dentist' investigated
COLORADO — Officials from the Colorado Board of Dental Examiners are investigating a dental practice that earns 80% of its revenue from nursing home consultations. Kenneth Kucera operates a business called Visiting Ancillary Services, which was formerly called HomeCare Dental Services, despite the fact that he is not a licensed dentist.

Kucera advertises his business as "the best non-profit, full-service visiting dental choice for the long-term care industry" and claims that he can treat patients "right in their wheelchairs," according to the Denver Post." The company has 26 contracts with nursing homes in the Denver and Fort Collins areas and has plans to expand to another 50 within 12 months.

Visiting Ancillary Services bills Medicaid directly for some clients, and the nursing homes collect Medicaid payments from the state for residents' dental care. Officials from the dental firm estimate that their monthly nonprofit revenues range between $40,000 and $70,000.

In 2010, Kucera received a cease-and-desist order for a dental practice from the state dental board due to his lack of a license. He then opened a new nonprofit organization with the secretary of state's office, which allows non-dentists to own dental practices.

Norovirus hits 81 at facility
CALIFORNIA — One California nursing home was able to re-open to visitors and new admissions in time for Thanksgiving following a norovirus outbreak that began two weeks earlier, according to local reports.

Officials from Country Villa Novato Healthcare Center, located in Novato, CA, reported its first case of norovirus — which causes abdominal pain, low fever, vomiting and diarrhea — to the public health department on Nov. 8, the San Francisco Chronicle reported. Soon after, the facility had reported 81 cases of norovirus, including 65 residents and 16 staff members.

The center, which had 181 beds and 172 residents at the beginning of the outbreak, was closed to visitors and new admissions on Nov. 15. One other facility in the same county reported a few cases of the virus but said the cases were well contained, the Chronicle reported.


Midwest

Gov. wants offender policy
IOWA — Gov. Terry Branstad (R) wants Iowa's nursing home residents — as well as their family members — to be notified when a registered sex offender moves into a care facility. Branstad asked department heads of four state agencies to collaborate to address the issue, the Des Moines Register reported.

Branstad's request follows an allegation of a sexual assault of a female resident at the Pomeroy Care Center in Pomeroy. The alleged offender was ordered to live at the nursing home by a judge after three state agencies agreed it was safe to discharge him from Iowa's Civil Commitment Unit for Sexual Offenders.

The issue of notification was raised, the newspaper reports, because the county's sheriff's office had notified local school officials that two sex offenders resided at the home. The sheriff's office later disputed the suggestion that it had notified the schools, contradicting what Pomeroy Care Center officials told state investigators. Local schools frequently brought groups of children to the home for activities, and staff told investigators that they had witnessed one of the sex offenders engaging in inappropriate behavior with visiting children.

Notification policies regarding sex offenders living in nursing homes vary from state to state. Oklahoma, California, Illinois and Minnesota have mandatory notification policies.

Bed tracker launched
INDIANA — The scramble to move residents from flooded nursing homes in the summer of 2009 precipitated the implementation of a statewide resident tracking system called the Long Term Care Bed and Personnel Tracking System. It went into operation Dec. 1, 2011.

It is based on census information provided via a web-based questionnaire, which facilities must fill out and submit on the last day of each month. The database tracks bed occupancy for men and women, as well as beds in Alzheimer's and ventilator units, LifeHealth Pro reported.

State officials told the news outlet that future goals for the system include using it for help with routine placements; determining state occupancy rates; offering education and training programs; improving the efficiency of other survey programs and improving the accuracy of personnel tracking.

E-prescription ignores LTC
MINNESOTA — Minnesota's ambitious program requiring healthcare providers to write electronic prescriptions to prevent expensive errors leaves one group of providers out in the cold: nursing homes.

The state's long-term care ombudsman, Deb Holtz, says she is concerned that poor handwriting and transcription errors have led to numerous deaths in nursing homes, according to the Star Tribune. Additionally, state nursing home operators say it's not uncommon for nursing home staff to make multiple calls per day to reconcile illegible handwritten prescriptions from physicians, the paper reports.

While the state of Minnesota does not keep track of nursing home prescription mistakes, the National Academy of Sciences estimated in 2006 that there were 800,000 medication-related injuries in skilled nursing facilities each year.

"Everybody knows people die from poor handwriting and transcription errors," Holtz told the newspaper.

New law gives SNFs break
WISCONSIN — A new law in Wisconsin gives nursing homes more time to pay penalties for citations and prevents them from getting multiple citations for the same violation.

The new law, signed by Gov. Scott Walker (R) in mid-November, also would give the state greater authority to revoke nursing home licenses and sue facilities for violating federal laws, the Journal Sentinel reported.

Under the state's existing system, nursing homes can be cited twice — once by the state and once by federal authorities — for the same infraction, such as a resident fall. Under the bill, nursing homes are likely to pay $1.5 million less per year, the newspaper reported.


EAST

Power outage causes death
NEW YORK — A ventilator-dependent nursing home resident in New York City died last month when a backup generator failed during a neighborhood power outage.

The resident, a 49-year-old woman who had a do-not-resuscitate order, lived at Eastchester Rehabilitation and Health Care Center. Ari Donowitz, an administrator at the Bronx nursing home, told the New York Daily News that the facility had experienced some trouble with a generator and that officials are conducting an investigation.

Emergency management workers evacuated 37 other ventilator-reliant residents to nearby hospitals after a power outage struck 4,300 residential and commercial Con Edison customers.

Teletherapy for depression
RHODE ISLAND — A pilot study in one Rhode Island health system is testing a telemedicine system to improve depression in nursing home residents undergoing rehab.

Depression is common in nursing home residents, according to geriatric mental health experts, but there is currently a shortage of mental health professionals to help treat this population. Thanks to a grant from the Rhode Island Foundation, two hospitals and one nursing home are partnering with a technology firm to bridge the gap between residents and mental health workers.

California-based Breakthrough is providing Internet-based teleconferencing technologies that will allow residents to interact with therapists via secure video, email and chat platforms.

SOUTHEAST

Resident 'waterboarded'
GEORGIA — Two nursing home workers were arrested in late November after a coworker reported them to the police for performing a waterboarding-like attack against a resident with severe dementia.

A grand jury indicted the two women, Jermeller Steed and Cicely Reed of Jonesboro, GA, on charges of false imprisonment and battering a patient, for the 2008 incident, The Huffington Post reported. According to a local TV station report, the workers confined the 89-year-old resident to a shower room and then held back her arms and wrists while using a shower nozzle to simulate the sensation of drowning.

The alleged attack was reportedly sparked by an argument about ice cream. Reed and Steed were both awaiting trial dates.

Whistleblower suit grows
FLORIDA — Brian Lee, Florida's ousted nursing home ombudsman, has expanded his lawsuit against the Florida Assisted Living Association, Florida Health Care Association and the state Department of Elder Affairs.

In a suit filed in September, Lee said the Department of Elder Affairs violated state whistleblower laws after Lee asked the state's nursing home operators to disclose ownership information.

In his amended complaint, he says all three defendants violated a law against interference with an ombudsman's duties. He also claims that the FHCA defamed him.

In response to Lee's original complaint, the FALA argued that the allegations, even if true, did not violate the whistleblower law.

Circuit Judge James Shelfer called off a hearing on the defendants' motions to dismiss the lawsuit after Lee's lawyer filed the amended complaint.