April 05, 2016
Study: Five-Star, consumer rankings agree 'minimally' on SNF quality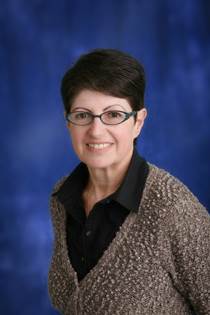 Mukamel: Nursing home rating measures should help consumers find the best facility for their needs
Current government ratings for nursing homes such as Nursing Home Compare differ so much from consumers' personal rankings, they could benefit from personalization, according to a new study.
Conducted by researchers at the University of California-Irvine, the study targeted government-provided, Five-Star Ratings System-based nursing home ratings, like those found on the Centers for Medicare & Medicaid Services' Nursing Home Compare website.
Nursing Home Compare offers a "one-size-fits-all-patients" look at skilled nursing facilities that doesn't take into account individual patients' medical needs and preferences, researchers said. Allowing consumers to personalize the nursing home ratings could paint a broader picture of the facilities, and help consumers choose which provider is the best for them, the team suggested.
To test that hypothesis, researchers created an iPad application called Nursing Home Compare Plus, which allowed patients and their families to rank the importance of quality measures, depending on their personal medical needs and preferences. Nursing Home Compare Plus was tested by 146 patients who were discharged from the UC Irvine Medical Center to skilled nursing facilities between February 2014 and August 2015.
The app took those patients' personalized rankings, along with data from Nursing Home Compare, and created a list of facilities tailored to their needs and wishes.
"Patients' medical needs and preferences vary," explained lead researcher Dana B. Mukamel, Ph.D., of the UC-Irvine. "Instead of looking for the 'best' provider along all measures, patients should be looking for the best provider for them. Therefore, allowing patients to personalize the composite measures has the potential to improve their choices."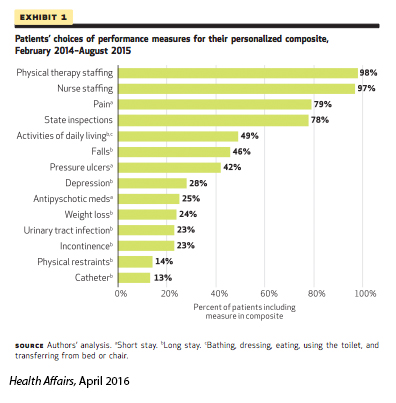 Physical therapy staffing, nurse staffing, pain, state inspections and activities of daily living ranked highest among the quality measures selected by consumers for their personalized rankings (see Exhibit 1). Those choices varied greatly from the order CMS uses when calculating a facility's Five-Star rating, researchers found. CMS starts with the inspection rating, followed with the facility's staffing rating and finishing with quality measures like pain and pressure ulcer risk.
"When patients and their families have the option of creating their own composite scores based on their personal medical needs and preferences, they make different choices," Mukamel said. "Our findings suggest that patients may benefit if the rating report cards are modified to also include an option for personalized ranking of quality measures."
While consumer preferences and the government's rankings may vary, one is not "better" than the other, Mukamel noted. Some patients may prefer to rely on the Five-Star Ratings System as it relies on expert opinions, while others may want to be more involved in their nursing-home selection process.
Full results of the study, which was released Monday, appear in the April issue of Health Affairs.