August 14, 2017
Study finds nursing assistants have higher risk of rheumatoid arthritis than women in other jobs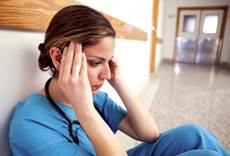 Female nursing assistants and attendants may be at a higher risk for rheumatoid arthritis than women in other professions, research shows
Nursing assistants and attendants may have a slightly higher risk of developing rheumatoid arthritis than women in other professions, a new study shows.
Swedish researchers studied more than 3,500 people with the disease, in which the body's immune system attacks the joints, and compared them to 5,600 people without it. The results, published Thursday in Arthritis Care & Research, found that people in some professions may have a higher risk of rheumatoid arthritis than others.
Among women, those who worked as assistant nurses and attendants were found to have a moderately increased risk of developing the disease, compared to women workers in other fields.
The study found that men who worked manufacturing jobs, such as bricklayers or electrical workers, had much higher risk of rheumatoid arthritis than men in administrative or professional fields.
The reason for the increased risk among some professions could be chalked up to work-related environmental factors, including noxious airborne agents such as solvents and asbestos, researchers said.
"It is important that findings on preventable risk factors are spread to employees, employers, and decision-makers in order to prevent disease by reducing or eliminating known risk factors," said lead researcher Anna Ilar, MSc.
The study adds to previous research that has linked direct care worker positions with a higher risk of illness and injury. While injury rates for long-term care workers have been declining in recent years, the sector remains one of the top industries in terms of high amounts of occupational injuries.