April 29, 2014
Strong professional relationships could reduce unnecessary hospitalizations from nursing homes, study suggests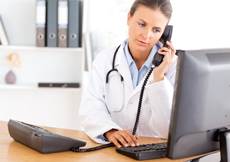 OIG: Nursing homes correctly reported 53% of abuse or neglect allegations in 2012
Registered nurses need strong and collegial relationships with their counterparts at a hospital in order to confidently refer nursing home residents to the emergency department, according to findings recently published in the Open Journal of Nursing.
Investigators in Sweden analyzed interviews with 13 RNs at 11 nursing homes, who shared details about every tenth hospital transfer during a one-year period.
These nurses are experiencing an "unduly high diversity" in their work, as residents come in with more complex conditions than in the past, the researchers found. In this environment, smart decisions about when to refer a resident to the emergency department require good communication between the RN and his or her "inner circle" and "outer circle," the study authors determined.
The "inner circle" is composed of the long-term care facility staff. Registered nurses expressed more confidence in their referral decisions if the inner circle could provide clear and trustworthy information about residents' conditions and treatment preferences. The RNs also had to feel secure that the inner circle could provide needed care if a transfer did not take place; perceptions of inner circle competency in fact took precedence over care plans in terms of whether a resident should be hospitalized, the referring nurses said.
Inner circle input became especially crucial in cases when there was poor access to "outer circle" personnel such as primary care or hospital physicians. Good outer circle communication occurred when physicians were accessible, listened closely, provided advice, and supported RNs' decision-making. Poor communication was marked by inaccessibility and judgmental exchanges.
"We spend hours trying to contact the relevant physicians, and sometimes when you reach a nurse or physician at the hospital you feel they are questioning you and your competence," one nurse told the interviewers.
While the study focused on Swedish nursing homes, the authors emphasized that other research has shown inappropriate emergency department referrals from nursing homes occur frequently in other nations, including the United States. Increased education for RNs and nursing home staff to make them more comfortable with higher acuity patients, as well as the development of strong communication channels, would support consensus decision-making that could reduce unnecessary hospitalizations, they concluded.