October 01, 2013
State News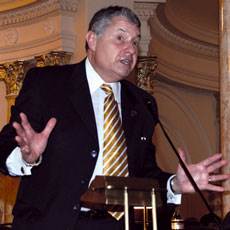 Sen. Robert Singer (R-30)
Midwest
Incentives boost quality
MINNESOTA — The state's Performance-based Incentive Payment Program encourages robust and sustained improvements in the quality of nursing home care, according to a recent analysis in the journal Health Affairs.
Researchers from a number of institutions, including the Indiana University School of Medicine and Harvard Medical School, found that participating facilities improved in target areas much more significantly than non-participant facilities. Plus, the participants maintained their quality improvement after the program ended.
Minnesota's approach encourages nursing homes to identify their problems, find evidence-based solutions and evaluate their outcomes, and is financed through state funding. This methodology allows providers and their staff to internalize quality improvement ideas.
"Facilities gave greater attention to evidence-based care practice, staff had more effective teamwork and communication, and better relationships emerged among nursing home management, staff, residents and family members," said Greg Arling, Ph.D., IU Center for Aging Research scientist and associate professor of medicine at the IU School of Medicine.
Average age decreases
OHIO — The average age of Ohio nursing home residents is 77 years, down from 83 in the 1990s, according to a recent Department of Aging report.
People are now receiving more in-home care later in life, which has driven down the average resident age. However, a "breakdown" in how the state cares for people with behavioral health issues also has contributed to the trend, according to Bob Applebaum, director of the Ohio Long-Term Care Research Project at Miami University's Scripps Gerontology Center.
As of spring 2012, nearly 19% of nursing home residents younger than 60 and on Medicaid needed no assistance with daily living activities. This indicates the residents likely have a mental illness and could reside in a different setting, Applebaum told The Columbus Dispatch.
An increase in short-stay rehabilitation residents also has contributed to the younger average age, he added.
Northeast
Regs tackle dementia care
MASSACHUSETTS — Nursing home regulators at the state health agency have proposed tighter rules for dementia care.
The standards were formulated under a law passed last year, to establish minimum standards for specialty units devoted to dementia. However, under the new rules, all Bay State nursing homes would have to provide dementia-specific training to all direct-care workers. Those with dementia care units would have to provide at least eight hours of initial training.
Dementia care units would also have to provide at least eight hours of structured activities every day, and nighttime activities as needed.
Paging systems and certain visually confusing or agitating design elements, such as high-glare finishes, would be banned.
Nursing homes would have up to 180 days to conduct the initial staff training after the rules go into effect. The regulations first must be approved by the Public Health Council.
AD form revamped
NEW HAMPSHIRE — New Hampshire's Advance Directive program has been updated to clarify the state's advance directive form. The change is meant to ensure that people's wishes for end-of-life care, especially regarding nutrition, are understood and followed.
Essentially, the issue was caused by the way New Hampshire's forms posed questions regarding medically administered nutrition and hydration, often in the form of feeding tubes. The duplication of a question made New Hampshire's forms different from other states, and because of that, some requests for no feeding tubes were ignored.
Christie's stamp would create first 'bill of rights' for residents in continuing care retirement communities
NEW JERSEY — A "bill of rights" for independent living residents of continuing care retirement communities hit the governor's desk after passing out of the Senate in August. Sens. Robert Singer (R-30) and Jennifer Beck (R-11) sponsored the measure.
If Gov. Chris Christie (R) signs the bill, CCRC operators would be required to distribute the rights statement to all residents, and would be subject to cease and desist orders and fines of up to $50,000 for failure to comply with its principles.
The bill would put in place a variety of rights related to entry procedures, occupancy, transfers from independent living, communication, financial issues and termination of services.
CCRCs would be required to maintain resident complaint records and make these available for review, and would be required to help residents access Medicare and Medicaid benefits. The bill also would protect residents' rights to have an advance directive and make decisions about end-of-life care.
Short stays most common
NEW YORK — The state's short-stay nursing home residents outnumber long-stay, according to a new report.
"New York's Nursing Homes: Shifting Roles and New Challenges" looks at the present condition of the state's nursing homes and their roles within the community. The report predicts nursing homes are "entering a new phase, characterized by greater integration with other components of the healthcare and long-term care delivery systems and by changing financial models."
As of 2010, the report states, short-stay nursing home residents outnumbered long-stay residents statewide, but not in New York City.
The report also found that New Yorkers 85 and older are entering nursing homes less frequently, while at the same time, there has been an uptick in long-term stays for elders who are obese, have functional limitations, chronic diseases and mental illness.
Also according to the report, the nursing facility sector was less profitable in 2010 than in 1996, with not-for-profit nursing homes in 2010 recording, on average, negative operating margins.
West
Support erodes for NP bill
CALIFORNIA — A battle over nurse practitioner independence took a turn recently after a committee in the Assembly amended and passed a controversial bill.
The original bill passed the Senate in May. That version would have allowed NPs to practice in skilled nursing facilities and other settings without physician oversight after a certain number of supervised hours.
The Assembly committee amended the bill to limit its scope. For example, the revised version would not have allowed an independent nurse practitioner to replace a physician or surgeon.
As a result of the changes, AARP and a national nurse practitioner group withdrew their support.
The California Medical Association, a physician group, has led the effort to defeat the bill.
Southeast
Dementia meds prioritized
ARKANSAS — The Arkansas Foundation for Medical Care has expanded a nursing home improvement program to tackle the use of antipsychotic medications.
The Innovative Performance Program sends experts to Medicaid-certified nursing homes to provide on-site monitoring and assistance, and has worked closely with about 50 facilities in the last three years, according to a recent NPR report.
The group recently began to focus on antipsychotic usage in addition to long-standing efforts to decrease pressure ulcers and the use of restraints, a Foundation for Medical Care spokeswoman told KUAR, the public radio station in Little Rock.
The improvement program is designed to help nursing homes identify areas of concern and implement and sustain changes
Analysts examine data from the Centers for Medicare & Medicaid Services and provide reports to nursing homes on either a quarterly or bi-annual basis.
This helps nursing homes track their progress on important metrics, according to Julie Kettlewell, assistant vice president of quality programs at the Foundation for Medical Care.
Drug crimes rise
NORTH CAROLINA — State Bureau of Investigation cases involving prescription drug crimes have risen sharply this year, and workers in senior care facilities are under scrutiny, according to local reports.
About a fifth of all active drug cases involve prescription drugs, and the SBI has 11 agents focused on healthcare workers diverting medications — primarily painkillers — from patients, Bureau spokeswoman Noelle Talley told Asheville's Citizen-Times newspaper.
A bureau agent in the drug investigation unit for Asheville and Buncombe counties said there were 20 cases through July 2013, versus 17 total in 2012.
Southwest
'F' grade prompts activism
OKLAHOMA — Rep. Richard Morrissette (D-District 92) is calling for a special study to investigate problems reported by clients of nursing homes in the state.
Morrissette and other activists were galvanized by a recent Families for Better Care analysis, which gave Oklahoma an "F" and ranked it No. 48 out of the 50 states for nursing home quality.
House Speaker T.W. Shannon (R-District 62) denied Morrissette's request for the study but faced increasing pressure as the legislature prepared to convene a special session on tort reform. Activists pushing for action on nursing homes characterized the special session as lawmakers kowtowing to businesses while paying little heed to victims.
Those pushing for action rallied at the Capitol on Sept. 4.
Olmstead case settled
TEXAS — The U.S. Department of Justice and a group of private plaintiffs recently reached a preliminary settlement in their case against the state, which alleged noncompliance with the Supreme Court's 1999 Olmstead decision. The DOJ said this is the first time it has reached a statewide settlement in an Olmstead matter.
The case originated in 2010, when six individual plaintiffs and two advocacy groups alleged that Texas officials violated the Americans with Disabilities Act by unnecessarily confining disabled individuals in nursing homes. The DOJ joined the case in 2012.
Under the interim settlement, Texas has agreed to expand community living options and supports, and to be more selective about admitting those with intellectual or developmental disabilities to nursing homes.
The Olmstead decision affirmed the right of disabled people to live in community-based settings when possible. n