September 01, 2013
State News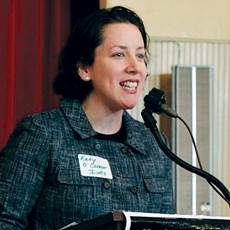 Sen. Kathleen O'Connor Ives (D-Newburyport)
Midwest
Medicaid spending debated
IOWA — The legislature is considering how much flexibility nursing homes should have in spending Medicaid dollars.
Current regulations require nursing homes to use Medicaid only for services that are "directly related" to resident care. Lawmakers in Des Moines are weighing a change to that regulation, which would eliminate the word "directly."
Critics of the change say that nursing homes already misuse Medicaid money to pay for legal fees and trade association dues. They say nursing homes' Medicaid cost reports should be more thoroughly itemized, to ensure that taxpayer money is being spent on resident care.
Music program expands
WISCONSIN — Up to 100 Wisconsin nursing homes will receive full funding to be certified as Music & Memory facilities, through a Department of Health Services program.
Music & Memory is a national program to improve the quality of life for residents with dementia by providing them with personalized music.
Wisconsin nursing homes taking part in the program will receive iPods and other music equipment, a $150 iTunes gift card, and training and support.
Selected facilities will be notified by Sept. 1, according to DHS.
Northeast
Supporters, opponents clash over antipsychotics consent
MASSACHUSETTS — An ongoing debate over nursing homes' use of antipsychotics flared in July during a meeting of the Joint Committee on Elder Affairs.
Three separate bills under consideration would require written consent from nursing home residents or their legal representatives prior to administration of antipsychotic drugs.
Two of the consent bills are in the Senate and one is being considered by the House, according to the Boston Globe.
Supporters and opponents faced off at the July meeting, according to local reports.
Representatives of the Massachusetts Psychiatric Society said the requirements would hamstring caregivers, to the detriment of residents who genuinely need antipsychotics.
Supporters believe unnecessary antipsychotic prescribing is harming residents.
The Bay State has one of the highest antipsychotic prescribing rates in the country, according to a 2010 Globe analysis. This analysis spurred the Massachusetts Senior Care Foundation to launch an antipsychotic reduction campaign. The year-long initiative began in Sept. 2012 and was funded by the Commonwealth Corp. through a grant.
Plains/Mountains
Overhaul slows payments
KANSAS — Nursing home administrators are frustrated with payment delays related to KanCare, the state's recently implemented system of managing Medicaid.
Under KanCare, three managed care organizations are responsible for coordinating all Medicaid beneficiaries' healthcare. These MCOs are Amerigroup of Kansas, Sunflower State Health Plan and UnitedHealthcare Community Plan of Kansas.
Since KanCare was launched in January, nursing homes have seen one- to three-month payment delays for Medicaid residents, according to local reports.
The delays are due to bookkeeping issues, the Kansas Department of Aging says.
Home care cap lifted
WYOMING — The state's Medicaid program has eliminated a cap on how many people can receive long-term care at home.
"We don't have a cap on how many people can go to a nursing home right now," Medicaid spokesman Jesse Springer told Wyoming Public Media. "But we did have a cap on the less expensive option of staying in your home."
The Department of Health has invited public comment on the new policy.
Southeast
Ombudsman woes continue
FLORIDA — The head of Florida's long-term care ombudsman program is under investigation after being placed on administrative leave.
Harold J. "Jim" Crochet became the leader of Florida's LTC ombudsman program in 2011. In July, he was placed on paid leave by Elder Affairs Secretary Charles T. Corley. Crochet then submitted his retirement paperwork, according to an Elder Affairs email to Families for Better Care.
The inspector general of the Elder Affairs office has opened an investigation into Crochet, but the office will not disclose potential allegations.
The terms of Crochet's leave suggest a serious matter. He was instructed to remain at his home during working hours and to cease all communication with paid staff or volunteers in the ombudsman program.
Crochet's critics have argued his ties with providers compromise his independence as an advocate for seniors. Former volunteers said his policies limited their effectiveness.
Crochet's predecessor, Brian Lee, is engaged in an ongoing legal battle with the state over his own departure. n