June 01, 2013
State News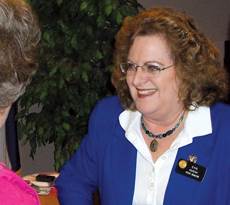 Colorado Sen. Evie Hudak (D-Westminster)
Southwest
OK for in-room cameras
OKLAHOMA — Gov. Mary Fallin (R) recently signed a law allowing video cameras in nursing home rooms. The "Protect Our Loved Ones Act" was unanimously approved by both the House and Senate.
Under the new law, nursing home residents or their legal representatives will be able to install electronic monitoring devices in private rooms. The equipment will be paid for by the resident or the resident's representative. Captured footage will be allowed as evidence in court or in an administrative proceeding.
Nursing homes will have to tell residents of their right to install a camera.
Sen. Ron Justice (R) and Rep. Harold Wright (R) sponsored the bill.
The law will take effect Nov. 1.
Northeast
State increases SNF fines
CONNECTICUT — The state's department of public health has updated nursing home penalties, doubling many fines from 2012 levels.
The department reviews and updates its civil penalties periodically, and decided to do so after the Centers for Medicare & Medicaid Services increased these penalties on the federal level recently, a DPH spokesman told local reporters.
The fines had been unchanged for several years previously, the spokesman said.
Southeast
Degree for LTC leaders
LOUISIANA — Louisiana State University at Alexandria is set to offer the first undergraduate program in eldercare administration in the state.
The program will be a 120-credit hour interdisciplinary curriculum leading to a Bachelor of Science in Elder Care Administration.
LSU-Alexandria leaders expect the program will attract current long-term care workers.
Union: action for vet home
WEST VIRGINIA — A workers' union has called on officials to look into complaints about a state-run veterans nursing home in Clarksburg.
United Electrical, Radio and Machine Workers Local 170, West Virginia Public Workers Union has registered concerns that former resident Stephen Newlon was discharged from the home in retaliation for describing poor conditions there in a recent TV interview.
Midwest
Movie sharing barred
MISSOURI — When a man at Garden Villas South nursing home in St. Louis County decided to share his DVD collection with fellow residents, the result was a popular weekly movie screening event — and a crash course in copyright law.
Administrators halted the movie night, saying the group screenings of a movie owned by an individual violated copyright protections. An attorney said the administrators were right to halt the screenings. The lawyer advised the nursing home to obtain licensing rights.
Garden Villas did so, acquiring rights from the Motion Picture Licensing Company and reinstating the screenings.
Floods cause relocations
MICHIGAN — Heavy spring rains led to nursing home evacuations in the Midwest, including at the 122-bed Brookcrest Christian Rehabilitation and Life Center in Grandville, MI. Residents have been staying in temporary lodgings since the facility flooded in April.
Other nursing homes in the general area assisted in the evacuation, Chris Matzke, the facility's administrator, told local reporters.
Brookcrest leaders said they anticipated having residents back in the Grandville location by the end of May.
West
Bipartisan Medi-Cal action
CALIFORNIA — A State Assembly health committee unanimously approved a bill to repeal a 10% rate cut imposed on the state's Medicaid program in 2011. The cuts have not been enacted, pending litigation.
Assembly member Brian Maienschein (R-Rancho Bernardo) was among the bill's bipartisan supporters. Nursing homes are among the healthcare providers that would be hit hardest if the rate cut were enacted, he told reporters.
Law calls for Colorado nursing home workers to report elder abuse
COLORADO — A bill requiring nursing home workers to report elder abuse cleared both houses of the legislature and was sent to Gov. John Hickenlooper (D).
SB 111 was developed by an elder abuse task force convened in 2012 and sponsored by Sen. Evie Hudak (D-Westminster). Colorado is currently one of three states that do not have an elder abuse reporting requirement for senior care professionals.
Under the law, nursing home workers would have 24 hours to report elder abuse they observe, or they could face a fine and jail time.
Similar measures failed in the past due to lack of funding. SB 111 allocates $3 million to implement the law.
Hickenlooper has proposed $5 million go toward elder abuse programs next year.