August 02, 2011
State News: Ohio: Medicaid funding plan favors home care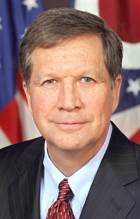 Gov. John Kasich (R-OH)

OHIO — Instead of cutting its way out of an $8 billion budget shortfall, the state will instead shift more funding dollars away from nursing homes toward less costly home-based long-term care in a move that is being billed as one of the most profound Medicaid program overhauls in history.

Nursing homes will take an average 5.8% rate cut, and will see their funding dwindle from 64% to 58% over the next two years. Community-based services funding will rise from 36% to 42% of the total.

A spokesperson for the state's Office of Health Transformation says the move will give consumers more choice in where they want to receive care, and the state's AARP representatives agree.

The Ohio Health Care Association estimates the overhaul will cost the long-term care industry 5,600 jobs.

MIDWEST
No sprinkler reprieve
MISSOURI – Five years after a fire killed 11 people at a group home in Anderson, dozens of residential-care and assisted living facilities are without sprinkler systems mandated by a 2007 law. Years of implementation delays ended recently with the governor's signature.

Gov. Jay Nixon (D) vetoed a bill that would have delayed by another three years the implementation of the requirements for residential-care and assisted-living facilities. Those facilities now have until the end of 2012 to comply.

Bill advocates argued that many group homes and care facilities cannot afford the improvements because of Medicaid cutbacks. They also complained that the state failed to fund a program that would have provided facilities low-cost loans to make the improvements. According to the Kansas City Star, 78 of 426 residential-care facilities have yet to meet the sprinkler requirements, along with 18 of 180 assisted-living facilities.

Chain seeks tax change
IOWA – A major nursing home chain's bid to cut its property tax bills in half by seeking residential assessment reclassifications has caught many local assessors by surprise. It could cut annual tax revenues as much as $620,000 statewide.

Nonprofit provider Care Initiatives, which operates 63 nursing homes and other living units, has petitioned 35 Iowa counties and two cities to reclassify nursing homes and related parcels from commercial to residential, according to Eastern Iowa Government, a newsgathering organization. Fifteen of those petitions have been denied so far.

The nursing facilities that have changed their designation say their decision to do so was influenced by an e-mail from the Iowa Department of Revenue, which stated that property owned by nonprofits and used for human habitation should be classified as residential property.

High court blesses union law
WISCONSIN – The state Supreme Court killed legal challenges to a bill from Gov. Scott Walker (R) that strips most public employees of their collective bargaining rights. Nursing homes also braced for $500 million in Medicaid cuts.
Without collective bargaining, union workers could be forced to pay more for healthcare and pension benefits.

The high court's decision reversed a lower court's earlier ruling that lawmakers violated meeting laws after pushing the collective bargaining measure toward passage in March. The ruling came just before the Republican-controlled Legislature passed the new state budget, which also puts an enrollment cap on the Family Care program designed to keep poor, elderly people out of nursing homes.

Walker has stated the measure was needed to give local governments greater authority over their labor costs. Wisconsin faced a $3.6 billion budget shortfall before the budget debate got underway, although its unemployment rate has dropped.


NORTHEAST
Feds scold researchers
MASSACHUSETTS – A research team's failure to inform elderly nursing home study participants about the risks of using padded undergarments on only one hip at a time may have unwittingly placed the seniors in peril, the Department of Health and Human Services (HHS) alleged recently.

Federal regulators said the Harvard physician-led team suppressed such risks — which they freely e-mailed one another about — from the more than 2,000 participants in Boston, St. Louis and Baltimore, according to published reports. The research was designed to study ways of reducing hip injuries. HHS officials said researchers assessed how padding just one hip affected seniors' injury rates. Those garments may have actually contributed to most serious falls on the padded side, a finding they said researchers failed to disclose to participants.

The regulators said the scientists should have shared their findings about the use of protective padded underwear with study subjects as well as safety boards that routinely oversee medical studies. Researchers were ordered to contact study participants about the matter.

Big LTC rate hikes OK'd
CONNECTICUT – Aging boomers here are bracing for double-digit hikes in long-term care insurance premium rates, as providers of the fledgling insurance product make corrections to the methods used to calculate customer bills.

After years of seeing their rate hike requests denied by state regulators, many insurance companies are now being granted increases. MetLife, one of the 12 companies that were recently granted increases, was allowed a 39% increase.

State regulators told the Hartford Courant that they refused to enact two-thirds of the 113 premium increase requests since 2007. One company — Continental General Insurance Co. — reportedly sought a 377% rate hike.

The state's ongoing efforts to shift costs to private payers, combined with Medicaid's inability to cover the full cost of care, are blamed for the premium increases.


SOUTHEAST

Fingerprinting for workers
KENTUCKY –The state recently received a $3 million federal grant to allow long-term care facilities to conduct extensive state and FBI background checks. New job applicants in nursing and personal care homes, assisted living centers, Alzheimer's facilities, home health, personal care agencies and residential centers for adults with mental disabilities will now be fingerprinted.

Officials hope the plan will allow facilities to better spot criminal backgrounds in applicants, who up to now were only screened using their names. It was unclear if the program would be consistent with existing state employment laws, and public comment will be sought, officials said.

Proponents say the plan couldn't come at a better time in a state allegedly plagued by cases of abuse and neglect, which were reported in nearly one out of every five long-term care facilities last year, according to the Cabinet for Health and Family Services. In 2010, 368 cases of suspected abuse or neglect were found to be legitimate, according to the Cabinet's recent report "Elder Abuse in Kentucky."

'Granny dumping' fracas
FLORIDA – In a state well-known for its plethora of retirees, the stage is set for an epic battle over replacing traditional Medicaid services with less costly managed care. Opponents of the plan, which some observers say is concealed within a recently passed Medicaid reform law that incentivizes health plans to do the switch, call it "granny dumping." Many are pledging to vigorously fight the effort.

In fact, the law would move three million state Medicaid recipients into a managed care program after July 1, 2012, and transition thousands of nursing home residents back into home or community settings, according to the Palm Beach Post.

A number of states, including California, New York, Delaware and Louisiana, are considering similar plans to move long-term care residents, including the disabled and mentally ill, out of nursing homes and into alternative managed care programs.

The controversial Florida plan comes as the state struggles with a 50% hike in Medicaid enrollment in just the past four years.


WEST
Elder abuse unpunished?
HAWAII – An upscale nursing home received no sanctions after investigations revealed a pattern of elder abuse by one of its caregivers, leading one newspaper to conclude it's only the latest in a series of missteps among regulators overseeing the state's nursing homes.

The certified nurse aide was fired by Kahala Nui nursing home in June 2009 after the individual was seen striking a resident with a hairbrush. But several prior sexual assault incidents witnessed by intimidated coworkers went unreported years before, the Honolulu Star-Advertiser reported.

The individual was later prosecuted for the crimes, served prison time and was deported.

Hawaii falls far below the national average for nursing home sanctions, the paper noted in its report of recent unpunished incidents that led to resident harm in three other nursing homes.

A spokesperson for the state's Office of Health Care Assurance said no sanctions were leveled because the worker was terminated and caregiving staff were retrained on abuse policies and procedures.

Critics: LTC gets sweet deal
CALIFORNIA – Proposed budget cuts have spared the state's nursing homes from a whopping 10% rate cut imposed on doctors and other Medi-Cal providers, prompting reform advocates to slam regulators for rewarding facilities that, they claim, continously underperform.

Even though nursing homes will see their Medi-Cal reimbursement rates reduced 7.6% this year, the $400 million in cuts will actually be refunded in 2012. Meanwhile, as California physician groups are lobbying for payment reform in Washington, a Supreme Court fight is being waged by other Medi-Cal providers, including hospitals. Medi-Cal is the state's Medicaid program.

The California Association of Health Facilities is defending the lesser cuts, and is claiming that Medicare cuts still could hit the state's nursing homes hard if the state's budget approval process is delayed.

A recent federal study found that California nursing homes perform "better than average" in only five categories and "worse" in 14 categories, including pressure sores on short-term-stay patients. California's rate of long-stay residents who are physically restrained is 8.4%, which is double the national average, the report stated.