October 01, 2016
State News for October 2016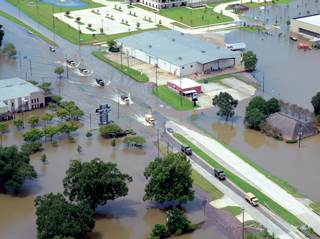 Thousands of flood victims will need to find housing and secure federal government funds in order to rebuild.
Louisiana
LTC community suffers fallout, gets heroic help after epic flood kills 13 and leaves thousands homeless
Louisiana's long-term care community was not unscathed from flooding that hit in mid-August, leaving thousands homeless and wreaking the worst damage in the country since Hurricane Sandy in 2012.
Bill Borne, who founded the home health and hospice care company Amedisys, was among the 13 confirmed drowning victims. The 58-year-old executive was found near his home in the Baton Rouge area. The epic flood dumped nearly 7 trillion gallons of water on the southeastern part of the state.
Several nursing homes were damaged in the flood, including Regency Place Nursing & Rehabilitation Center in Baton Rouge, whose 86 residents were displaced and transferred to Grace Health and Rehab Center in nearby Slaughter. That facility was seeking healthcare volunteers at press time to care for a resident population that had swelled to 211. Plans were to eventually move the 86 residents to a shuttered long-term acute-care hospital in Clinton. Meanwhile, several employees of a Virginia nursing home traveled to Baton Rouge to help a sister facility ravaged by the storm.
Northwest
Forced to shun new residents
ALASKA — Ongoing budget cuts are forcing a large publicly funded system of senior living communities to turn away new residents.
State Pioneer Homes Division Director Vickie Wilson told reporters the cuts have led to staff attrition, making it impossible to provide safe and adequate care at the system's six facilities. Wilson said about 30 fewer residents can be cared for, about 7% of the 450-resident capacity. An equal number of staff positions have been eliminated because of the funding shortfall.
One state-level AARP official called the cuts "devastating," noting that as many as 128,000 people in the state currently work as unpaid family caregivers. Alaska Commission on Aging officials say record numbers of elderly needing care are not helping the situation.
The state Legislature established Alaska Pioneer Homes in 1913 under the purview of the Alaska Department of Health and Social Services as a system of assisted living residences.
West
Nurse licensing glitches
CALIFORNIA — The state auditor has blamed botched implementation of a new $96 million computer system for a massive logjam in nursing license applications. The irony of the system's name — "BreEZe" — is not lost on the thousands of nursing school graduates left in limbo.
Officials say applicants from both in and out of state often wait as long as six months to obtain their licenses from the state Board of Registered Nursing, which issued nearly 24,000 of them in the 2015-2016 fiscal year. To complicate matters, the board reportedly doesn't have enough people to process the applications efficiently.
As if the wait times weren't painful enough, applicants are unable to search the board's website for the status of their applications. They also are warned online that contacting a live person could further delay processing.
The new computer system is used by 18 separate state agencies to process various forms of identity and certifications.
Midwest
SNF pay overhaul underway
WISCONSIN — By early 2018, the state's long-term care system will undergo a radical shift in the way care is coordinated and paid for.
Critics say Gov. Scott Walker's (R) massive overhaul of the long-term care system has blindsided many caregivers because it tinkers with two unique systems that have long provided a safety net for the poorest people in the state: Family Care and IRIS, which have enabled 55,000 elderly and disabled people to remain in their homes while receiving home care services and medical care.
IRIS stands for "Include, Respect, I Self-Direct."
Services for both kinds of care are currently handled separately under a system generally lauded as highly functional and efficient. Under Walker's plan, both likely will be handled by the same large insurers. Opponents of the measure fear the new plan not only will lead to diminished self-directed care options but also the loss of local expertise.
Person-centered funding?
OHIO — An interdisciplinary group of university researchers in gerontology, clinical psychology and computer science will be given $1 million to drill deeper into the experiences of nursing home residents to discover better ways of delivering person-centered care.
The state's Department of Medicaid is providing the money to Miami University's Scripps Gerontology Center to conduct a long-term study on residents' preferences for everyday living.
The ultimate goal is to develop mechanisms for improving nursing home residents' quality of life. Center officials hope they will eventually deliver practical training tools in a "user-friendly, technological framework" to track nursing home residents' preferences, a Miami University spokesperson said. The study will collect data from the Preferences for Everyday Living Inventory (PELI).
Peter Van Runkle, executive director of the Ohio Health Care Association, lauded the study grant in a university statement, claiming the effort will "help move the ball forward on personalizing care in Ohio's skilled nursing centers."
Northeast
County SNFs get a break
PENNSYLVANIA — County-owned nursing homes have mixed feelings about about a plan ending a decade-long policy that only partially covered their Medicaid expenses.
The policy, which required public facilities to pay 10% of the cost of caring for indigent residents, has long been viewed as unfair because privately-owned facilities receiving Medicaid reimbursements weren't held to the same standard.
Steve Breidigan, CFO of Cedarbrook Nursing Home in Allentown, told reporters Lehigh County alone picked up $1.86 million in Medicaid costs last year.
Lawmakers threw out the policy, replacing it with a new funding plan being phased in over the next three years. But there's a catch: The new plan links funding to the expanded use of Medicaid managed care organizations, leading some to wonder whether they are being spared fees on one end while possibly facing rate cuts on the other.
Kelly Andrisano, who heads an organization that lobbies for county-owned nursing homes, told reporters the new plan likely would result in more overall funding.
Southeast
Facility fights $30M verdict
TENNESSEE — Attorneys representing a Memphis nursing home say they will challenge a $30 million negligence verdict on the grounds that serious and chronic conditions — not neglect — led to the death of one of its residents.
Relatives of Martha Jane Pierce filed the suit against Allenbrooke Nursing and Rehabilitation Center LLC, related businesses and two New York owners, claiming that negligence, medical malpractice and violations of the state Adult Protection Act contributed to the woman's death.
The resident suffered from pressure ulcer infections on one foot and died two months after her leg was amputated in 2009.
Baker Donelson attorney Craig C. Conley told reporters that in addition to the defendants presenting "substantial" evidence showing Pierce's chronic medical conditions led to her death, the jury failed to follow legal guidelines given for their deliberations.
All but $2 million of the jury's award in the Circuit Court trial represented punitive damages.