October 01, 2014
State News for October 2014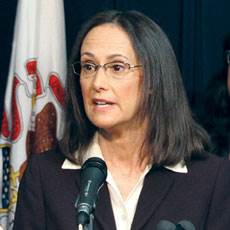 IL Attorney General Lisa Madigan
MIDWEST
Online complaints begin, in-room cameras floated
ILLINOIS — Gov. Pat Quinn (D) has signed a new law making it easier for people to lodge complaints against nursing homes.
Under the measure sponsored by Sen. Julie Morrison (D-Deerfield) and Rep. Michael Unes (R-Pekin), Land of Lincoln residents now can fill out online complaint forms via the Illinois Department of Health website.
The IDPH will review the complaint process each year, with a goal of improving the anonymous complaint process, according to information released by Quinn's office.
The governor signed the law in August. The next month, Attorney General Lisa Madigan proposed another new nursing home law, which would make Illinois the sixth state to allow audio and video recording devices in resident rooms.
SOUTHEAST
Voters averse to SNFs
ARKANSAS — Voters who are at least 50 years old strongly desire political candidates who would expand funding for long-term care outside of nursing homes, according to a recent AARP Arkansas poll.
Nearly 80% of respondents said that supporting the ability of older adults to live independently is an "important" factor in their voting decisions.
More than 80% said they "strongly support" more flexible federal long-term care funding to shift care from institutions to homes.
Respondents were about equally divided in their support for the gubernatorial candidates, Mike Ross (D) and Asa Hutchinson (R).
The survey was given to 1,200 people identified as likely voters in 2014.
PLAINS/MOUNTAINS
Medicaid payments up 4%
SOUTH DAKOTA — Nursing homes in the state have received a 4% bump in Medicaid reimbursements, and some legislators are not happy about the circumstances of the increase, according to local news sources.
The state's Department of Social Services decided to boost the reimbursements over the summer but did not notify state lawmakers before telling facilities, the Aberdeen News reported.
The rate increase won't bust the budget because the money already was appropriated by the Legislature, Social Services Secretary Lynne Valenti told committee members, according to the News. Valenti's department could afford to boost payments because the state's nursing homes consistently have been admitting fewer Medicaid residents than expected, she said.
WEST
Supervisors nix citations
CALIFORNIA — Surveyors' supervisors sometimes intervene so that nursing homes do not face citations stemming from on-site inspections, according to a recently released audit in Los Angeles County.
In five of these instances, the inspector had issued a citation related to a resident death, according to a Los Angeles Times analysis of the findings. Sometimes the supervisor changed the citation without discussing this with the issuing surveyor, the newspaper noted.
"Inspectors get the idea that their supervisors won't approve deficiencies or citations that would trigger needed enforcement actions," California Advocates for Nursing Home Reform Michael Connors told the Times. The inspection program has changed leadership, and other changes have been implemented in response to the findings, according to public health officials.
The audit was undertaken after a Kaiser Health News investigation turned up evidence that some nursing home cases were prematurely closed due to pressures from a backlog.
NORTHEAST
LTC company used as front
CONNECTICUT — The owner of a rehabilitation and long-term care company testified during a September trial that he had engaged in shady dealings with former Connecticut Gov. John G. Rowland (R).
Brian Foley said that he wanted to secure Rowland as a consultant to his wife's campaign for U.S. Congress, according to local reports. However, because Rowland resigned the governorship in 2004 and served prison time for corruption, Foley sought to keep Rowland's role a secret. He devised a plan in which Rowland was hired as a purported consultant to Foley's Apple Rehab. Prosecutors allege that Rowland was in fact paid to provide campaign advice. Foley and his wife, Lisa Wilson-Foley, have pleaded guilty on misdemeanor charges related to these allegations. Foley agreed to testify against Rowland for improper campaign financing, in exchange for leniency in his own sentencing, The New York Times reported.