November 01, 2014
State news for November 2014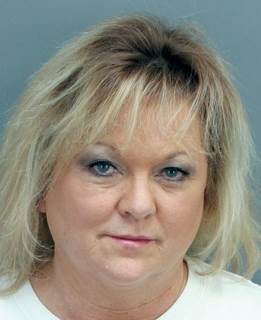 Palasini was booked on charges that she masterminded a complex fraud.
SOUTH
Residents, families rocked by alleged Ponzi scheme
MISSISSIPPI — Postal inspectors allege nursing home employees here and in California may have unwittingly referred families and residents seeking help with Medicaid and veterans' benefits to an individual who allegedly filed troublesome paperwork and defrauded others of hundreds of thousands of dollars in what they described as a sophisticated Ponzi scheme.
Investigators told the Clarion-Ledger newspaper that Gina Palasini, who now faces numerous felony charges and a federal wire fraud investigation, set up several businesses and websites to help seniors access benefits, yet jeopardized her clients' ability to obtain them because she sometimes withheld paperwork or used questionable enrollment tactics.
In some cases, she allegedly convinced families to transfer large sums of assets to her accounts so they could meet benefit eligibility requirements, and later failed to return the money upon a resident's death. Palasini allegedly spent some of the money on lavish gifts for family while only partially paying off clients with the comingled funds. One individual claims to have lost $340,000 to the scheme.
State associations have advised providers to refer residents and family members only to reputable financial, pension or benefits planners accredited through the Certified Financial Planner Board of Standards, and in the case of Medicaid, the Medicaid Planner Governing Board.
NORTHEAST
Strikes, lockouts hit Alaris
NEW JERSEY — Four Alaris nursing homes in the state were embroiled in employee strikes after a five-month union contract stalemate. Labor interests failed to gain concessions over significant health insurance premium hikes, benefit reductions, low pay and deficient direct patient care staffing.
Twenty nursing home employees at Alaris' Jersey City and Union City facilities were locked out by management in mid-September following three-day strikes at four facilities in Hudson and Bergen counties.
1199SEIU, the union that represents about 450 employees at the Alaris sites, has accused the company of unfair labor practices and ignoring new contract proposals calling for higher levels of front-line staffing for direct patient care. The union has claimed the current staffing levels are far below state and national averages.
MIDWEST
Flat tax would defray costs
MINNESOTA — Lawmakers may soon ponder a so-called "flat tax" on higher-income residents as a measure to meet the costly needs of a rapidly aging population.
State Sen. Kent Eken (DFL-Twin Valley) has proposed extending the state Social Security tax beyond the $117,000 income limit and using the revenue to establish a dedicated fund earmarked for long-term care. State officials say the measure could generate about $450 million per year.
The over-85 population is expected to double over the next two decades in the midst of declining numbers of skilled nursing beds in the state.
SOUTHEAST
Disputed rate hike tabled
GEORGIA — A controversial nursing home rate hike in the recently approved state budget has been put on hold, pending allegations a select number of facilities and gubernatorial campaign supporters would unduly benefit from the measure.
The rate hike, estimated to cost the state an additional $26 million a year, is intended to be given only to nursing home owners who bought facilities between January 1 and June 30 in 2012. Among that group were nursing home industry representatives who contributed to the campaigns of Gov. Nathan Deal (R) and other newly elected lawmakers, according to the Atlanta Journal-Constitution.
Hours after the Department of Community Health (DCH) board tabled the measure, Deal fired two DCH board members, the paper reported.
Shortfall on new VA home
WEST VIRGINIA — State law may have authorized a new Veterans Affairs nursing home but it made no provision to fund its construction. Now lawmakers are scrambling to raise money to build the 120-bed facility.
About $25 million is needed from the state to make the new Beckley VA facility in Raleigh County a reality, according to the Department of Veterans Assistance. The remaining funds needed, approximately $71 million, would come from the federal government. Clarksburg is the site of the state's only current VA nursing home.
PLAINS/MOUNTAINS
SNF bed shortage looming?
WYOMING — A possible looming shortage of nursing home beds has industry observers worried.
One LeadingAge official who represents not-for-profit facilities in the state told a Cheyenne newspaper that nursing home occupancy rates are at about 82%.
Dee Cozzens, president of the Wyoming Health Care Association, however, told the paper acute shortages are hitting particularly hard where beds dedicated for dementia and Alzheimer's disease are involved. Cozzens, who is running for governor, is the administrator of the Worland Health Care Rehabilitation Center.