May 06, 2017
State News for May 2017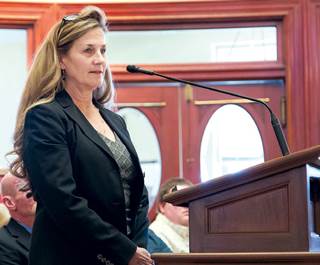 A cigarette tax proposed by Sen. Mary Caferro (D-Helena) would raise nursing home workers' pay by a projected $4 per hour, and add funds for veterans' nursing homes.
Tax could raise millions for direct care worker wages
Montana — An increase in Montana's tobacco tax could help nursing homes, under legislation currently being debated.
The state Senate passed Bill 354 by a 27-22 vote on March 30. It would increase the cigarette tax by $1.50 a pack, and also tax electronic cigarettes and vaping products.
Around half the money — expected to be about $70 million — would go toward healthcare expenses, including a raise for direct care workers at nursing homes. The average pay for those workers is currently less than $10 per hour. If the bill, sponsored by state Sen. Mary Caferro (D-Helena), is approved, it's expected to raise wages by about $4 an hour by late 2018.
The other half raised by the tax would go toward veterans' nursing homes, state building projects and the state treasury.
Health groups, included the American Heart Association, have given their support. Gov. Steve Bullock (D) also weighed in, calling the proposed tax"reasonable," according to the UM Community News Service. He also has advocated for a higher tax on wine.
Southwest
Snapchat videos bring arrest
Texas — A certified nursing assistant at a Texas nursing home was arrested and charged following the posting of inappropriate videos of a resident to Snapchat.
Carlos Santacruz, who worked as a certified nursing assistant at Windsor Nursing and Rehabilitation Center on Duval in North Austin, was charged with assault by contact, a Class A misdemeanor. He is accused of tickling an 83-year-old resident's face while she had feces on her hands and posting images to Snapchat. Someone who knew Santacruz and where he worked spotted the Snapchat posts at the end of March and reported him to authorities, according to local reports.
Santacruz could receive a fine of up to $4,000 and/or a year in jail if found guilty.
In a statement to McKnight's Windsor officials said that they couldn't respond to specifics involving a resident's care, but they were working with authorities to review what happened.
"Protecting the privacy, dignity and rights of residents is always our greatest concern as a care provider," they said.
Midwest
County home fate uncertain
Illinois — Champaign County voters gave their board the right to sell or dispose of its county nursing home after a vote in April.
More than half of voters approved the authorization to sell for Champaign County Nursing Home in Urbana, IL.
One executive said the nursing home is losing around $100,000 a month, the News-Gazette reported, although a sale is at least a year away. Sections of the facility are scheduled for consolidation, but several residents have to be moved. Officials stressed that their intention is not to close the home.
Northeast
RN receives 20 months
MASSACHUSETTS — A nursing home nurse is headed to federal prison after being convicted of stealing morphine.
Lea Roberge, 33, was fired from the Holy Trinity Orthodox Nursing and Rehabilitation Center in Worchester, MA, in 2015 after investigators found evidence she tampered with emergency narcotics kits. She had worked there as a registered nurse for six months, according to federal authorities.
Roberge used a syringe to extract morphine from six vials and one bottle, replacing the liquid with saline, the Food and Drug Office of Criminal Investigations said.
U.S. District Court Judge Timonthy S. Hillman sentenced Roberge in April to serve 20 months in prison on two counts of tampering with a consumer product. If she successfully completes her prison sentence, she will be placed on supervised release for three years.
Southeast
LTC basks in CON victory
Florida — Nursing homes and hospices will still be required to have "certificate of need" approval to build, after Florida's House Health & Human Services Committee approved a change in April.
The decision marked a victory for the Florida Health Care Association and other groups, as HB7 focused on making it easier to build healthcare facilities. The revised version, which focuses only on hospitals, moved on to the Senate.
Repealing Certificate of Need for healthcare facilities has been a goal of Republicans and Florida Gov. Rick Scott (R), who say certificates of need stifle competition.
But FHCA and the Florida Hospice & Palliative Care Association had said that the certificate of need process remains important for their industries, and without it there would be more empty beds in long-term care facilities.
It was unclear whether the bill would succeed in the Senate, where previous attempts to pass similar measures have failed.