July 06, 2015
State News for July 2015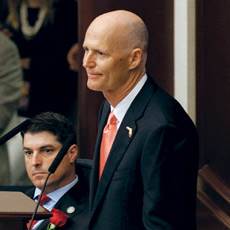 Governor Rick Scott
NORTHWEST
Complaints fuel suspension
ALASKA — The Alaska Department of Health and Social Services appointed its own interim manager to oversee a 102-room nursing home that had recently been charged with dozens of state inspection violations, several care complaints and resident hospitalizations, according to published reports.
Federal authorities gave Prestige Care and Rehabilitation Center of Anchorage a 60-day deadline to correct inspection-related issues, or face closure by the Centers for Medicare and Medicaid Services, news station KTVA reported. In late May, DHSS suspended Prestige's license and issued a temporary license for the facility to continue operating under department supervision, the news service reported.
Alaska Division of Health Care Services Director Margaret Brodi told reporters the facility had received 50 citations in a recent "surprise" inspection. Several complaints about poor care had also been reportedly filed and an "unusually high number" of residents had previously been transferred to Providence Alaska Medical Center.
The facility provides nursing care, physical therapy, occupational therapy and other services. "It's very important to us that the care and safety of the residents is adhered to," Prestige's Regional Director Buffy Howard told KTVA.
SOUTHWEST
New observation stay law praised by providers
FLORIDA — Long-term care providers are hailing a new state law that requires hospitals to inform seniors about their hospital-admission status.
Gov. Rick Scott (R-FL) signed the HB 309 into law in June. Various other jurisdictions and the federal government are considering similar measures.
"This new law is an important step in providing transparency and protection for seniors so they can properly plan their care options," said Emmett Reed, executive director of the Florida Health Care Association. "We commend Gov.Scott, as well as legislative sponsors Rep. Shawn Harrison and Sen. Don Gaetz, for taking up this important issue."
The bill is aimed at protecting seniors from unexpected charges resulting from transitions from a hospital to a skilled nursing center under uncertain status. In recent years, hospitals have expanded their use of the "observation stay" designation, often confusing beneficiaries, who think they are covered under Medicare's three-night hospital stay rule.
The new law took effect July 1. Patients or their representative must be advised of the status at the time of discharge and the status must be documented in the patient's discharge papers. Brochures and other forms of communication must also be used to keep the senior patient informed.
WEST
$3.8M to settle false claims
CALIFORNIA — Owners of two California nursing homes will pay $3.8 million to the federal government to settle the allegations of submitting false Medicare and Medicaid claims and overmedicated residents over a five-year period.
Watsonville Nursing Center and Watsonville Post-Acute Center, formerly known as Country Villa Watsonville East Nursing Center and Country Villa Watsonville West Nursing and Rehabilitation Center, respectively, also will enter into a five-year corporate integrity agreement, the Justice Department announced.
The settlement ends a case that began with an August 2014 government complaint the facilities submitted false claims worth "more than $20 million," according to local reports. Prosecutors say the charges were for "materially substandard or worthless services" billed to the federal Medicare and state Medi-Cal programs. The complaint also alleged between 2007 and 2012, the facilities "persistently overmedicated elderly and vulnerable residents of the nursing homes," causing infection, sepsis, malnutrition, dehydration, falls, fractures, pressure ulcers and for some residents, premature death, the Justice Department added.
MIDWEST
Bed limits tested
WISCONSIN — An Indiana nursing home developer is ruffling more than a few feathers in Wisconsin in its effort to circumvent a state cap on nursing home beds.
Mainstreet Investment Co. wants to build 26 high-end short-stay rehab and therapy facilities, despite a 34-year bed cap in Wisconsin, which has seen a 16% drop in licensed beds from 2003 to 2013, the Milwaukee Journal Sentinel reported. Mainstreet has argued the cap doesn't apply to its plan because it includes only transitional care beds for 28 days or less.
LeadingAge Wisconsin has countered that the state's existing nursing homes, nearly 20% of whose beds are currently empty, also allow the same short stay provisions.
Meanwhile, Wisconsin Health Care Association Executive Director Tom Moore told the newspaper Mainstreet's proposal could provide a special exemption at the 11th hour of the state's current budget negotiations. The Carmel, IN-based firm has developed 20 facilities in Indiana, Illinois and Colorado, and has another 12 under construction in Indiana, Colorado, Kansas and Texas, according to the company's website.
SNF probed on nude photos
INDIANA — Unclothed residents may be a common sight for caregivers, but one Indiana nursing home is under scrutiny after nude photos of one of a residents wound up on the Internet.
The 91-bed Waters of Scottsburg told a local TV station that three nursing assistants have been suspended for "taking advantage of a resident." The photographs were allegedly posted to a social media website by a nursing home employee, the station said.
Facility management reported the incident to the Scottsburg Police Department and the Indiana Department of Health. Authorities had not pressed criminal charges at press time.
SOUTHEAST
Stolen meds fund Vegas trip
LOUISIANA — A former nursing home director and former elementary school teacher allegedly planned to sell prescription drugs stolen from the facility to drug dealers to pay off debts and to finance a Las Vegas trip, authorities said.
Patrick Lampard, 36, former administrator of Heritage Manor Nursing Home in Slidell, and Bonnie Pritchard, 46, who taught at a local elementary school, were in custody at press time in the St. Tammany Parish jail. According to the Times-Picayune, each was booked with possession of a schedule II narcotic with intent to distribute, and possession of a legend drug. Authorities also charged Pritchard with introduction of a schedule II narcotic into a correctional facility. Lampard also faced a charge of theft, the newspaper reported.
Police discovered the ruse after being dispatched on an emergency call to a house the two shared. When they arrived, officers reportedly found pills belonging to Heritage Manor residents in plastic bags.
NORTHEAST
State healthiest for seniors
VERMONT — About 1,700 miles separate Louisiana from Vermont, but the two are oceans apart when it comes to accommodating the needs of seniors, according to a new analysis.
The Green Mountain state dethroned Minnesota this year as the nation's healthiest place for seniors, based on the annual "America's Health Rankings Senior Report: A Call to Action." prepared by The United Health Foundation, a nonprofit arm of insurer UnitedHealth Group. Vermont earned the honors for seniors' high use of the federal food stamp program, low use of hospital intensive care units and easy access to home-delivered meals.
New Hampshire, Minnesota, Hawaii and Utah came in second to fifth place, respectively.
Louisiana, meanwhile, plunged seven states from 2014 to come in dead last, earning the distinction for its low percentage of dentist visits, high percentage of low-care nursing home residents and high levels of hunger. Mississippi, Kentucky, Arkansas and Oklahoma fell in line next to Louisiana.