February 08, 2018
State News for February 2018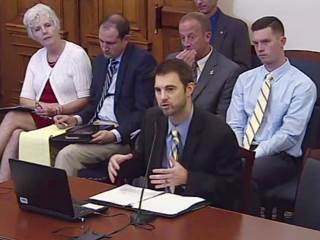 State seeks to boost nurse faculty numbers
State seeks to boost nurse faculty numbers
A proposed state bill seeks to attract and retain nursing faculty by offering grants of up to $5,000 a year, with a lifetime maximum of $25,000, to eligible nursing faculty.
While more than 24 Indiana colleges offer nursing programs, many struggle with faculty shortages, said the Indiana State Nurses Association. In 2016, more than 700 qualified applicants were turned away from undergraduate nursing programs due to faculty shortages, according to Blayne G. Miley, director of policy and advocacy for the Indiana State Nurses Association.
"For that nurse in long-term care who wants to go back, it would really be tragic to be denied entry to a program," he told McKnight's.
In order to teach undergraduates, most nursing faculties require a professor to have at least a master's degree. The grants are meant to help defray the costs of graduate school loans.
"I get calls on a not-too infrequent basis from nurses working in a long-term care facility
The Indiana State Nurses Association's Blayne Miley testified about faculty shortages to a committee last fall.
about how thin they are being stretched due to staffing," Miley said. "This grant program has the capability to help our nursing workforce pipeline across the board."
The money for the grants would come from nurse license renewal fees, 75% of which currently go into a general fund.
EAST
Facility ignored DNR order
NEW YORK — Nurses at a Syracuse long-term care facility saved a resident's life last year using cardiopulmonary resuscitation, even though the woman had a valid do-not-resuscitate order and was wearing a spe- cial bracelet to identify DNR patients.
The woman's records stated she did not want to be resuscitated or intubated, wanted limited medical interventions and wished to be sent to the hospital only if necessary, according to a state Health Department inspection.
Nurses at the former James Square Health and Rehabilitation Centre, however, took all of those steps after they found her unresponsive and without a pulse on Aug. 13, The Post-Standard reported.
By the time a nurse noticed the DNR in the woman's chart, she had already been taken to the hospital.
The nurse who called for help after finding the woman unresponsive said she hadn't been trained on identifying DNR residents, according to the newspaper.
The facility was sold in December and renamed Bishop Rehabilitation & Nursing Center. New Administrator Margaret Mary Wagner said she was not familiar with the incident but told the paper, "This is a human business and people are going to make mistakes."
MIDWEST
County to sell SNF
ILLINOIS — The final chapter may have arrived for Champaign County's troubled nursing home.
County board members voted 13-8 in January to sell the facility. While some claimed it was turning around, others noted it had lost money for years, according to the Champaign/ Urbana News Gazette. County Auditor Diane Michaels told the board the nursing home owes $2.8 million to outside vendors and $2.7 million to various county accounts.
The minimum bid for the nursing home has to be at least $11 million, according to terms of sale, and proposals for its purchase need to be submitted by the end of February. Additionally, the buyer would have to agree to maintain a skilled nursing facility with 220 beds, with additional permitted uses limited to a long-term care facility, geriatric center or assisted living facility. Those restrictions would remain in place until Dec. 31, 2027.
SOUTH
State trims funding request
MISSISSIPPI — The state's Medicaid program is reducing its request for money during the budget year.
Under former director David Dzielak, the program requested an additional $47 million for the
budget cycle ending June 30. Dzielak resigned in December, with sources telling the Clarion- Ledger the decision was based on repeatedly clashing with Gov. Phil Bryant (R).
Interim director Drew Snyder reduced the Medicaid budget request to $26 million, noting savings through managed care. Dzielak had been criticized by some lawmakers for awarding a contract for Medicaid managed care last year to an out-of-state insurer rather than a network of local providers.
More than 700,000 state residents are enrolled in Medicaid.
WEST
Caregiver act signed
HAWAII — Friends and family who care for elders now can qualify for state assistance.
The Kupuna Caregivers Assistance Act lets those working at least 30 hours a week qualify to receive a stipend of up to $70 per day. The caregivers can use the money to hire a part-time health aide, or pay for other help such as meals or cleaning.
The money cannot be used for nursing home fees, according to the Hawaii Tribune-Herald. There is $600,000 for the program through June 30, although advocates hope the program will be extended.