August 05, 2015
State News for August 2015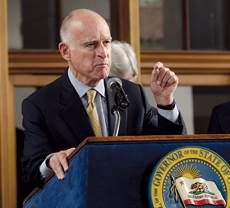 California Governor Jerry Brown
WEST
Nation's largest LTC union established in California
CALIFORNIA — The nation's most populous state is also now home to the largest long-term care workers' union, which formally chartered in late June.
Service Employees International (SEIU) 2015, formed from three smaller SEIU locals in the state, currently represents 280,000 nursing home and home care workers across 37 counties. SEIU 2015 leadership told reporters the entity's first order of business would be using its collective bargaining power to secure better wages and working conditions for its members. This most notably includes leading the fight for a $15 minimum wage.
A recent report by the National Employment Law Project found that 42% of all U.S. workers make less than $15 an hour and almost half are over the age of 35.
Joining forces are SEIU United Long Term Care Workers, SEIU United Healthcare Workers West and SEIU Local 521.
Caregivers have found success butting heads with current Gov. Jerry Brown, and his predecessors. Home care advocates had a 7% cut restored to in-home supportive service hours, for example, and nursing home funding has been continued, the Sacramento Bee reported.
NORTHEAST
Union or not, equal raises
CONNECTICUT — Lawmakers averted a major labor crisis near press time after scrapping a plan that would have allocated the lion's share of a wage hike to unionized workers in a relatively small number of facilities.
Instead, Senate and House lawmakers approved a measure to evenly distribute $13 million for nursing home wages to both union and non-union nursing home workers in the state.
Under a previous plan, the Legislature would have given $9 million of the increased wage allocation to nursing home employees in just 60 facilities — all union shops — while workers in 170 non-unionized homes would get the remaining $4 million. The disparity would have meant union employees would earn an 80-cents per hour raise, while non-union workers would receive just a 10-cents per hour hike. One lawmaker told reporters the original plan was designed to prevent a strike among union workers.
The Connecticut Association of Health Care Facilities blasted that plan for being "patently unfair," while one high-ranking government official told Gov. Dannel P. Malloy the wage allocation needed to be evenly distributed under federal law.
County facility sold for $15M
NEW YORK — Counties across the state are reportedly exiting the nonprofit nursing home business with a Genesee County facility becoming the latest to transfer into the hands of private operators.
In late June, local officials approved the $15.2 million sale of Genesee County Nursing Home. The 240-bed facility's new owners, Premier Healthcare Management LLC, a Long Island-based nursing home company, was among eight finalists.
County Manager Jay Gsell told reporters the sale includes the skilled nursing home and an 80-bed adult home within the facility. Most of the state's county-owned facilities are plagued with operational red ink, according to a recent study by the Center for Governmental Research.
SOUTHEAST
Nursing home given to city
ALABAMA — It closed twice since opening in Tuskegee in 1968, and now the city will make the shuttered Salem Nursing and Rehabilitation Center into a community center after it was donated by one of the state's nursing home operators.
The former 125-bed facility was acquired by Ball Healthcare-Macon. The owner of 10 nursing homes in the state, Ball Healthcare was granted permission to move 34 beds to Magnolia Haven Health and Rehabilitation Center and another 91 beds to a new facility in Macon County, according to published reports.
Ball Healthcare-Macon President Clarence M. Ball Jr. donated the 50,000-square-foot facility to the city of Tuskegee.
SNF officer: $200K theft
LOUISIANA — Police said the former comptroller of a Baton Rouge nursing home management firm wrote more than 60 fraudulent checks totaling $200,000 to himself over a three-year period beginning in 2011.
Travis Templet, 36, was convicted July 1 of wire fraud in connection to the crimes at the firm that manages nonprofits across Louisiana and Arkansas. Court documents revealed Templet changed the accounting records and software to conceal the theft and later deposited the funds into his personal accounts, according to the Times-Picayune.
The Gonzales man faces an undetermined prison sentence.South
Cocaine charges for worker
TEXAS — A nursing home housekeeping employee faces federal charges for allegedly possessing nearly 30 grams of cocaine, according to NBC's Houston affiliate KPRC.
The news organization reported that Lajuanita A. Lister was asked by nursing home staff to have her vehicle inspected in mid-April as part of an "ongoing internal investigation of complaints of theft within the facility," according to federal court documents. A maintenance supervisor reportedly discovered two bags containing a white powdery substance inside a tote belonging to Lister during an earlier search inside the facility.
Police discovered one bag of the substance on the ground where Lister had been standing during the vehicle search, while another bag reportedly fell from her clothing during a search at the police station. The material inside both bags was later determined to be crack cocaine, according to KPRC.
Lister, released on bond in late June, faces federal charges related to distribution and possession of cocaine.
MIDWEST
Police: nude photo shared
INDIANA — A nursing home worker faces voyeurism charges after allegedly posting a photo of a nude resident on a popular social media site.
Police say the former Scottsburg nursing home employee Taylor Waller, 22, allegedly shared the photo on the mobile web app Snapchat. While the website allows users to post images that typically disappear momentarily after being viewed, three witnesses verified the existence of the image with police.
The Indiana Department of Health reportedly ordered the facility to file a plan of correction to ensure similar incidents will not happen again.
PLAINS/MOUNTAINS
Aide levels at crisis stage?
WYOMING — Nursing home aides are dwindling in numbers across the state, leading healthcare agencies to sound an alarm.
State Department of Health Director Tom Forslund told reporters the agency is attempting to remedy the situation with the state Department of Workforce Services after being advised by the Medicaid agency to take action.
It's unclear just how acute the situation is in Wyoming, but shortages of nursing aides have been predicted for several years now as more and more leave or decline to enter a profession known for long, hard, low-paid hours of often risky work. A recent Wall Street Journal report found that as many as 75% of nursing aides turn over each year, compared to a 28% rate for all healthcare and social-assistance jobs in 2012.
LTC workers plead guilty
OKLAHOMA — Attorney General Scott Pruitt secured guilty pleas from nursing home workers in mid-June involving fraudulent prescriptions and resident abuse in separate, unrelated cases.
Christina Deann Whalen, 42, pleaded guilty to charges relating to forged hydrocodone prescriptions for nine residents over a three-month period in 2011. In the second case, Marcia Nicole Alaniz, 34, pleaded guilty to charges involving verbal abuse, assault and battery, and malicious intimidation and harassment.