April 04, 2016
State News for April 2016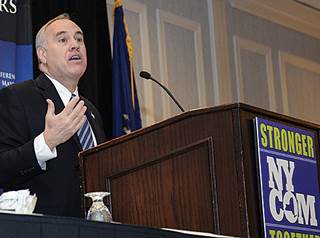 New York Comptroller Thomas DiNapoli says fines need to be issued quicker and more frequently.
Northeast
Audit blasts lax nursing home fine enforcement
NEW YORK — The New York State Department of Health has come under fire for its perceived soft enforcement of fines against nursing homes.
The average time between surveyors identifying deficiencies and the department issuing fines was four years as of 2014, compared to six months for fines issued in 2007, according to an audit released in late February by state Comptroller Thomas DiNapoli.
The audit also found the department imposes fines only in cases where a resident had already been harmed or residents were in immediate jeopardy — less than 4% of all violations.
While the department is meeting its requirements for nursing home inspections, only one part-time employee is tasked with processing enforcement actions, DiNapoli said.
"DOH is not using the full array of enforcement actions available and this trend has recently worsened, taking the teeth out of a significant deterrent to unsafe practices and conditions," DiNapoli said. "DOH officials deserve credit for their timely inspection of nursing homes but more must be done."
The audit also noted a law allowing the DOH to issue fines of $5,000 to $10,000 for serious offenses is set to expire in 2017, at which point the maximum fine will revert to $2,000.
SNFs boosting economy
NEW JERSEY — Nursing homes are "major players" in the state's economy, according to the New Jersey Nursing Home Profile from the New Jersey Hospital Association.
The report, which draws from public data, found the state's 358 nursing homes generate $5.4 billion in annual expenditures.
Those facilities employ nearly 56,000 people, who contribute $116 million in state income taxes and earn $2.1 billion in salaries, report authors observed.
"Nursing homes are critical to providing quality service throughout the healthcare continuum and are major stakeholders in the state's economy," said NJHA President and CEO Betsy Ryan in a news release. "When looking at policy and planning for the future, this report provides important data that can help inform that dialogue."
LGBT training bill
WASHINGTON D.C. — The Council of the District of Columbia approved a bill in February that would require the district's healthcare workers to receive training on health issues facing the LGBT community.
The first-of-its-kind bill, which received unanimous council approval, would require all licensed, certified and registered healthcare workers to undergo two credits of cultural competency training.
The training would help workers better treat and establish relationships with patients who are LGBT, gender non-conforming, or questioning. Workers would also receive information on health risks specific to the LGBT community, handling patient information and overcoming cultural biases that adversely impact care.
The bill was awaiting Mayor Muriel Bowser's (D) signature as of press time.
Nonprofit CCRCs reign
Maryland — The vast majority of entry-fee continuing care retirement communities in the state are nonprofit, according to a new report.
Ziegler, an investment banking firm specializing in senior living, and My LifeSite, a consumer-focused CCRC website, released the first in its series of state-by-state CCRC reports in March.
The Maryland report found 62% of entry-fee CCRCs are single-site providers, and 85% are nonprofits.
The report also found the median size of CCRCs in the state to be 342 beds.
West
Bill expands SNF services
CALIFORNIA — A proposal has been introduced to the Legislature that would expand on the services skilled nursing facilities are allowed to provide.
The LeadingAge California-sponsored bill, introduced in late February, would allow SNFs to seek licensure for special services other than physical therapy, occupational therapy, speech pathology and audiology services.
Current state law doesn't allow skilled nursing facilities to receive licenses for additional special services without the Department of Public Health establishing quality regulations for that service. The department has a backlog of regulations that would prevent any new regulations from being passed for years, according to LeadingAge California.
The bill was expected to be heard in the state assembly's health committee in late March.
SNF bed shortage
CALIFORNIA — San Francisco is in the midst of a skilled nursing bed shortage that is expected to worsen in coming years, according to a recent report from the Department of Public Health.
At the current rate of use, demand for skilled nursing beds would exceed supply by 2020 due to the city's growing aging population, officials said.
San Francisco currently has roughly 22 skilled nursing beds per 1,000 seniors. n