August 01, 2012
State news: Dementia care, training the focus of reform efforts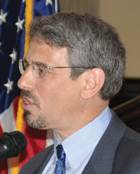 James Wessler

MASSACHUSETTS — Gov. Deval Patrick (D) has signed off on sweeping reforms designed to improve dementia care in nursing homes. The law includes a requirement for minimum care standards for dementia care units, and mandates dementia-specific training for all direct-care workers, activities directors and supervisors.

Massachusetts was one of a handful of states without critical requirements for controlling dementia care in nursing homes. Its facilities have a 28% rate of inappropriate use of ­antipsychotics with dementia patients, according to the Boston Globe.



"This is certainly way overdue," James Wessler, chief executive of the Alzheimer's Association, Massachusetts/New Hampshire chapter, said of the law. He said the state has an obligation to see that facilities are providing the level of dementia care they say they are.

NORTHEAST
County-run homes shrink
NEW JERSEY – Medicaid dollars are shrinking faster than the water table across the drought-stricken United States and the latest casualties are local county-run nursing homes, which are becoming privatized and forcing many more residents to seek refuge in more costly settings.

In the past 18 months, four county facilities in the state have been privatized, and the remaining 16 are likely to follow suit, according to a Health Care Association of New Jersey spokesperson.

This means more people will have to seek alternatives to government-sponsored nursing home care. An AARP official told the Philadelphia Inquirer that less than 6% of all nursing homes in the country are still government-run.

The loss of county-run nursing homes will hit poor residents particularly hard because private homes are required to allocate only less than half of their beds to Medicaid patients — beds that are becoming increasingly harder to find.

A Health Care Association of New Jersey spokesperson blames the problem on the governor's slashing of the state's Medicaid contributions, as well as unsustainable Medicaid losses across the board.

Electronic fingerprints used
PENNSYLVANIA – Critics of nursing home hiring practices are applauding a Department of Aging plan to check applicants' fingerprints against criminal records.

Under the plan, which will do away with manually submitted background checks, job seekers would be electronically fingerprinted before consideration for jobs in a nursing home or home health agency, an Associated Press report noted.

The Older Adults Protective Services Act requires applicants and employees to submit to criminal background checks, and those living in the state fewer than two years must submit background report findings from the FBI, according to the report.

SOUTHEAST
Bad-debt rules pinching
FLORIDA – A significant cut in so-called "bad debt reimbursements" from Medicare, which nursing homes have long relied upon to battle rising costs, is putting facilities with high Medicaid populations in jeopardy.

Florida nursing homes stand to lose an estimated $60.5 million in Medicare funds over the next few years, more than the next two hardest-hit states combined, according to the Sarasota Herald-Tribune.

The bad debt reimbursement provision was created a long time ago to allow nursing homes to recoup lost charges they're unable to pass on to residents who become Medicaid eligible.

The current bad debt payment of $144.50 per day, will be cut by about $18 in 2012 and rise to a $57 cut by 2015, according to a nursing home official interviewed by the newspaper.

MIDWEST
Bonus-quality plan cut
OHIO – Nursing home bonuses were cut following a budget-slashing spree by Gov. John Kasich (R), leaving one Ohio Health Care Association leader scratching his head.

"Tying reimbursement to quality is a hallmark of the administration's policy for healthcare, which makes this veto doubly frustrating," the association's Executive Director Pete Van Runkle told the Lancaster Eagle-Gazette. The plan, which would have set aside bonuses to high-quality nursing homes, would have been tied to quality measures developed by a Kasich administration-led team.

Republican legislators had backed the $30-million bonus plan, but Kasich has frequently fought with the state's long-term care industry over the past few years. The failed provision is the latest in disappointments for the industry, which has seen $360 million in Medicaid cuts and more than $400 million in Medicare cuts in the past year.

Vet homes funded in shift
MISSOURI – Funding for veterans' nursing homes got a boost recently at the expense of early childhood programs.
Gov. Jay Nixon (D) told veterans a new law would provide a dedicated funding source for the state-run homes, ensuring that aging and ailing military heroes can receive the care they need for years to come, according to the Southeast Missourian. Until now, the bulk of unpaid costs in the state's veterans' homes came from the Missouri Veterans Commission fund, which has plunged from a high of almost $80 million in 1999 to about $17 million today, and likely would have been cleaned out completely by 2013 if no action was taken.

The veterans' home windfall will come from an anticipated $30 million in new casino fees, which had previously been earmarked for early childhood programs. In turn, early childhood funding can be replaced by Missouri's annual share of a nationwide settlement with tobacco companies.

The plan left many observers questioning the wisdom of betting on casino revenues to ensure an adequate level of funding for healthcare and other vital community services.