August 28, 2009
State attorneys general urge suspension and revision of Five-Star rating system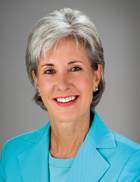 HHS Secretary Kathleen Sebelius
A total of 31 state attorneys general sent a letter to Kathleen Sebelius, secretary of the Department of Health and Human Services. In the letter, they called for the suspension and revision of the Five-Star Quality Rating System.
The rating system, which the Centers for Medicare & Medicaid Services launched in December, "...can be misleading and create significant confusion for seniors," according to the letter.
Nursing homes have argued that Five-Star is not an accurate rating system because it is based on a flawed survey and certification system. Bruce Yarwood, president and CEO of the American Health Care Association, praised the attorneys general.
"The fact that these thirty-one state leaders, who are dedicated to protecting consumers, came together to highlight weaknesses of the current Five-Star system speaks volumes about the weaknesses in a system that was developed to aid consumers," he said in a statement.