September 01, 2010
State-aid deal frees new Medicaid funds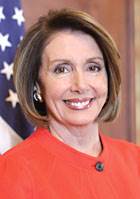 Rep. Nancy Pelosi (D-CA)

After months of political wrangling, Congress approved a bill that will give states $16.1 billion in additional Medicaid funding. The new aid represents a six-month extension of the federal medical assistance percentage increase. It thrilled long-term care providers, who long had been lobbying for this boost to their top reimbursement source.


The vote is "a statement of support for quality in nursing homes and support for the people who deliver care in them every day," said Larry Minnix, president and CEO of the Association of Homes and Services for the Aging.

"More than anyone else, [House] Speaker Pelosi understood the severity of the financial situation facing the states today and did the right thing for America's frail and elderly," said American Health Care Association President Bruce Yarwood and Alliance for Quality Nursing Home Care President Alan Rosenbloom.