October 12, 2010
Soon-to-be AHCA President Parkinson tells members they will control their own future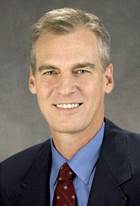 Mark Parkinson, AHCA president and CEO
Kansas Gov. Mark Parkinson, the incoming CEO and president of the American Health Care Association, introduced himself to members Monday as a fellow long-term care owner and operator. He stressed the importance of lobbying aggressively, delivering great care and bridging differences as providers.
"Now it's the time for all of us to come together to fight this fight," Parkinson said during his first address to members at the 61st annual AHCA convention in Long Beach, CA.
The central theme of his tenure will be "We are going to control our own future," said Parkinson, who succeeds Yarwood as president and CEO in January. To accomplish this, he said the organization has to do three things: continue to be a political and lobbying powerhouse, become the quality leader in the United States for the care of the elderly, and come together as a diverse group of providers—not-for-profit, for-profit, large, small, and those delivering various services.
As a way of introducing himself, Parkinson talked about his experiences owning and operating long-term care facilities. He showed AHCA members photos of his three now-grown children, Alex, Sam, and Kit, several years ago with residents. He also shared photos of his wife, Stacy, dressed as the "Cat in the Hat" and an Easter bunny at the communities. Another photo projected on the large auditorium screens showed him at a New Year's party at one of his long-term care facilities in 1999.
"Yes, there really is a governor who spent 10 years in facilities," he said to an engaged audience at the Long Beach Convention Center.
Parkinson, who became governor of Kansas last year, said he and his wife built their first facility in 1996 and then proceeded to build six more. He had an office in an assisted living facility and then a nursing home. He and Stacy worked in the dining room and did activities with residents.
"Our kids were raised in these buildings," said Parkinson, who sold his interests in the facilities when he became governor.
During his speech, Parkinson thanked Yarwood who he said helped to move the organization forward.
"It's an honor to follow you," Parkinson said. "Thank you for all you have done."
Leaders of AHCA who spoke during the opening general session also praised Yarwood and his leadership.
A tearful Yarwood, who gave his last address to his members Monday, said he has a "gazillion thank yous to say."
One of them was Board Chairman Bob Van Dyk, who temporarily led the organization this year after Yarwood suffered a brain aneurysm.
"It's good to be vertical," Yarwood quipped.
The last year was "not a huge successful year for us," he said, noting that healthcare reform "was not good for us so far."
He said Parkinson will have "one huge fight, one huge battle."
He concluded his short speech saying he's enjoyed leading AHCA.
"It's a good, good group and one I've been proud to have represented," he said.