February 01, 2015
Social media prep improves residents' well-being: study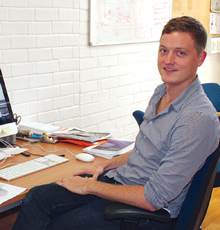 Thomas Morton, Ph.D.
Social media training improves the well-being of nursing home residents while also helping them connect with family and friends, according to a two-year British study.
The Ages 2.0 project provided volunteers between 60 and 95 with a specially designed computer, broadband connection and training on how to use them. The seniors lived in the community and in residential care homes. They could keep the computer for 12 months, including the three-month training period.
Those who had the training became more positive about computers and maintained better physical health compared to a control group. University of Exeter investigators found training in social media improved cognitive capacity and increased the volunteers' sense of self-competence.
The research, funded by the European Union, sought to identify tools that promote active aging and combat social isolation. Participants Skyped with family members and even joined their trainers virtually in activities such as camping.
"Human beings are social animals, and it's no surprise that we tend to do better when we have the capacity to connect with others," said Thomas Morton, Ph.D. "But what can be surprising is just how important social connections are to cognitive and physical health. People who are socially isolated or who experience loneliness are more vulnerable to disease and decline."