April 01, 2013
Snoezelen, not snoozing, at 100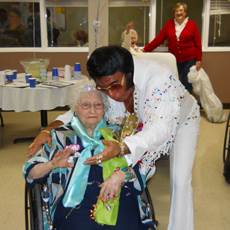 Snoezelen, not snoozing, at 100
It's noteworthy that the Taylor Care Center in Jacksonville, FL, recently marked the 100th birthday of two residents by inviting an Elvis impersonator to perform. More remarkable: The event celebrated 42 residents who are at least 90.
Asked by a local reporter for her secret, centenarian Chlora Davis (pictured) said she has none. But we asked Director of Nursing Lori Austin, RN, BSN, what the 120-bed nursing center's secret is.
Austin says one key to fostering long, vibrant lives is to know your residents well. It's easy to pass off a small change with a resident as a rough day, she said. But Taylor's staff is very attuned and responsive to changes, heading off hospitalizations. There's also an effort to keep residents off antipsychotics. Agitated residents might relax with Snoezelen therapy, involving a rich sensory experience of aromatherapy, manicure/pedicure and music.
Attending to small details makes a big difference, with an "individualized and thoughtful" approach preferred to an institutional one, Austin says. For instance, a tea party used pots and cups lent by a community member instead of generic urns and cups. The vintage teapots reminded those in memory care of when they were teenagers.
Keeping active is important, so outdoor "roll and strolls" complement the soothing Snoezelen therapy. And tea parties are balanced by rocking birthdays that leave residents pleasantly "all shook up."