December 01, 2012
SNF upcoding rampant: OIG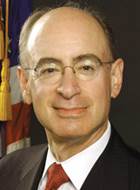 HHS Inspector General Daniel Levinson
Nursing homes are overcharging Medicare around $1.5 billion annually, a federal report released in mid-November asserts.
The Office of Inspector General report says SNFs are upcoding claims for Medicare, either by listing more services than were done or by giving incorrect treatment. Under particular scrutiny are physical, occupational and speech therapy, and ADLs.
The OIG made the following recommendations, which were accepted by federal regulators: expand reviews of SNF claims; identify SNFs billing for higher paying RUGs; monitor new therapy assessment compliance; change the method for determining how much therapy is needed; improve MDS accuracy; and follow up on SNFs that billed in error.