November 02, 2015
Sloan, Roberts forecast aggressive plans atop LeadingAge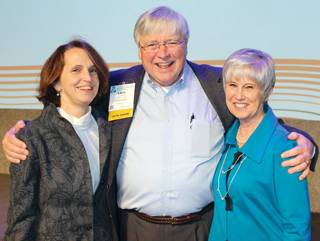 (L-R): Katie Sloan, Larry Minnix, Kathryn Roberts
LeadingAge installed a new board chair and christened a new top executive Monday at its annual meeting in Boston, with both promising to blaze their own trail while building upon the successes of their predecessors. It is the first time in LeadingAge history that both top spots will be held by women, not a fact belabored other than to jokingly point out differences in shoe or other sizes.
Katie Smith Sloan, most recently LeadingAge's Chief Operating Officer, told a general session crowd estimated at more than 6,000 that more needs to be done. She succeeds the man who hired her 13 years ago, Larry Minnix, who is retiring at the end of the year and was conspicuously absent from the stage, comfortably perched on a seat in the third row throughout.
"Our big hearts will need to grow bigger, and more importantly, grow braver, to carry out our mission and expand the world of possibilities for aging," Sloan said.
Outgoing Board Chairman Dave Gehm called Sloan "perfect for where we are now," in comments to McKnight's after the session. Gehm steps down after a two-year term, giving way to Kathryn Roberts, the 12-year president and CEO of Shoreview, MN-based Ecumen, who was officially installed during the Monday morning session. Roberts said LeadingAge members will continue to face new challenges as seniors' desires and wishes for housing and care continue to evolve.
Stephen Fleming, the CEO of North Carolina-based Well Spring Services was announced as the board's new choice as chair-elect.
Sloan said one of her first tasks will be to conduct a search for her replacement in the COO post. That search will be national but be conducted by the organization itself, she noted.
The LeadingAge annual meeting and expo has attracted 8,500 individuals, including presenters and exhibitors, according to organizers. This year's version will continue through Wednesday, with subsequent editions taking place in Indianapolis next year and New Orleans during Halloween in 2017.