March 14, 2013
Six days to go: McKnight's Online Expo returns
Download:

2013 McKnight's Online Expo session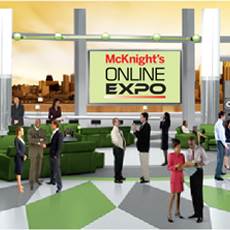 Six days to go: McKnight's Online Expo returns
Each week brings more examples of nursing homes fined for Immediate Jeopardy citations. The latest high-profile cases have involved pressure sore care and a resident engaging in inappropriate touching, showing how broadly providers have to look to create effective policies around Immediate Jeopardy.
Operators no doubt have many questions and concerns about this important issue, and help is at hand. Joan Redden, vice president of regulatory and consumer affairs at Skilled Healthcare, will explain Immediate Jeopardy categories and triggers in a free McKnight's Online Expo webcast on March 20.
Redden's session is part of the first day of this exciting event. Four other free webcasts will take place next Wednesday and Thursday as part of the seventh annual Online Expo. Topics range from the latest MDS 3.0 changes to best practices in wound care. And if the word "avatar" only conjures up images of otherworldly blue creatures, tune in to the "Avatars in Senior Care Settings" webcast at 1 p.m. Eastern on March 20 to have your definition broadened.
Continuing education credits are available for each webcast, and the Expo also includes virtual networking opportunities, online vendor booths and a resource center with purchasing reports and buyers' guides. Registration is ongoing at mcknights.com/expo2013.