March 01, 2013
Settlement will expand therapy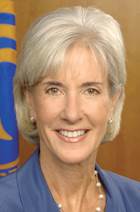 Health and Human Services Secretary Kathleen Sebelius
It's official: A federal judge approved a settlement agreement the last week of January that will allow Medicare patients to continue receiving therapy services even if they are not making measurable improvement.
The agreement in the high-profile Jimmo v. Sebelius case means that individuals who need "maintenance" therapy can no longer be denied Medicare coverage.
The Centers for Medicare & Medicaid Services will have to update its policy manual and undertake an education campaign to increase awareness of the policy, according to terms of the settlement agreement.
Previously, providers gauged whether to continue therapy using an "Improvement Standard," which is no longer considered valid.