May 03, 2012
Senators: Recovery audit contractors might be doubling up tasks; campaign against fraud gears up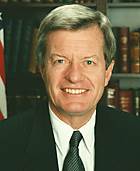 Senate Finance Committee Chairman Max Baucus (D-MT)
Members of the Senate Finance Committee say they are concerned that the functions completed by independent contractors — known as recovery audit contractors (RACs) and Zone Program Integrity Contractors (PICs) — often overlap.
RACs and PICs are tasked with reviewing Medicare and Medicaid claims from skilled nursing facilities and other providers.
The committee also is soliciting input from a variety of healthcare industry stakeholders on ways to improve "program integrity benefits" in fighting Medicare and Medicaid fraud.
Medicare and Medicaid programs lose between $20 billion and $100 billion to fraud and payment errors, according to an open letter issued by a bipartisan group of six committee members
The letter asks all types of stakeholders, from providers to patients, to submit detailed proposals detailing ways to strengthen program integrity.
In recent months RACs have been credited with identifying over $398 million in Medicare overpayments in fiscal 2012. In fiscal 2011, RACs and other quality assurance efforts helped Medicare Advantage recover $1.2 billion in improper payments.
Sens. Max Baucus (D-MT), Orrin Hatch (R-UT), Tom Coburn (R-OK), Ron Wyden (D-OR), Charles Grassley (R-IA) and Tom Carper (D-DE) signed the letter.
Click here to read the letter.