August 02, 2010
Senators plan to vote this week on bill extending Medicaid assistance to states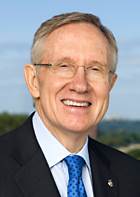 Senate Majority Leader Harry Reid (D-NV)
The Senate is expected to vote this week on legislation that would provide $26.1 billion in education funding and Medicaid assistance to states.
Sen. Majority Leader Harry Reid expects resistance from Republicans, according to The Hill newspaper. He will force them to vote on the package, the news outlet said. Republicans oppose increased spending on healthcare, but some governors, including Arnold Schwarzenegger (R-CA), are in favor of the funding to close steep deficits.
Nursing home providers have been urging lawmakers for several months to extend by six months the increase in the federal medical assistance percentage (FMAP) to states. The increased Medicaid assistance is set to expire at the end of the year.