January 01, 2008
Senators demand that CMS name all poor performers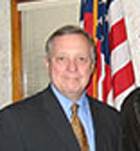 Sen. Dick Durbin (D-IL)
A handful of U.S. senators are leading a push to release all names on a federal "worst performing" nursing homes list.

Sens. Tom Harkin (D-IA) and Hillary Clinton (D-NY) introduced legislation that would force the Centers for Medicare & Medicaid Services to release every name on the list. CMS as of deadline had decided to publicly release only the names of the worst 54 facilities of the 128 on the list.
In addition, nine senators, including Harkin and presidential candidate Barack Obama (D-IL) sent a letter to the Secretary of the Department of Health and Human Services Michael Leavitt demanding release of the other 74 names.
Senators seemed most irritated that lobbyists, such as the American Health Care Association, the Association of Homes and Services for the Aging and the Alliance for Quality Nursing Home Care were given the entire list of facility names.
"Providing information about poorly performing nursing homes to the lobbyists who represent those facilities, and not to the senior citizens who would most benefit from this information, is outrageous," said the letter to Leavitt.
"Our goal in releasing the list of facilities to the nursing home trade groups was to challenge them to police themselves, not as lobbyists, but in their role as technical advisers to their members. We view these groups as part of the chain of accountability for poor-performing nursing homes," CMS spokeswoman Mary Kahn responded.