February 14, 2013
Senate will likely confirm Tavenner, Baucus says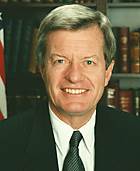 Senate Finance Committee Chairman Max Baucus (D-MT)
The Senate Finance Committee will hold a confirmation hearing for Marilyn Tavenner, the White House's nominee to head the Centers for Medicare & Medicaid Services. The committee's chairman, Sen. Max Baucus (D-MT), told the Bureau of National Affairs the hearing would take place "soon."
Tavenner has been acting CMS administrator since Donald Berwick's departure in December 2011. Her appointment expired at the end of the 112th Congress on Jan. 3. President Barack Obama renominated her to head the agency on Feb. 7.
Baucus declined to hold a confirmation hearing following Tavenner's initial appointment, citing strong opposition. A confirmation fight might also have brought the Affordable Care Act under fire. However, Tavenner has won bipartisan support and Baucus believes she will likely be confirmed, according to BNA.
Mark Parkinson, president and CEO of AHCA/NCAL, called on the Senate to confirm Tavenner, saying she is "the right leader for the job." Other prominent voices in long-term care, including Alliance for Quality Nursing Home Care President Alan G. Rosenbloom, also endorsed the nomination.