June 24, 2010
Senate proposal would extend an increase in Medicaid funding—but reduce the increase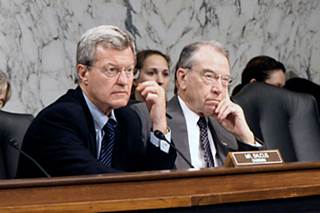 Sen. Max Baucus (D-MT) (left) sits next to Sen. Charles Grassley (R-IA).

A compromise proposal introduced in the Senate Tuesday could provide states with some extra Medicaid money—just not as much as they have hoped for.

During last week's debate, Senate Democrats tried—and twice failed—to include a six-month extension of a 6.2% bump in the federal medical assistance percentage (FMAP) in a jobs bill. Looking to appease fiscal conservative opposed to the measure, Senate Finance Committee Chair Max Baucus (D-MT) on Tuesday proposed an extension that would gradually reduce the bump over the course of the fiscal year. The percentage increase would fall to 5.3% in the second quarter of fiscal year 2011, and then drop to 3.2% in the third-quarter, the Bureau of National Affairs reported.

If approved, the extenders bill would move to the House, which stripped the bill of the FMAP funds the first time around. Meanwhile, House leaders are still holding up a six-month physician pay fix bill. They are demanding Senate action on jobless benefits before they reverse the 21.3% Medicare physician reimbursement cut that officially took effect June 18.