May 23, 2008
Senate passes 'veto-proof' bill that would delay Medicaid funding cuts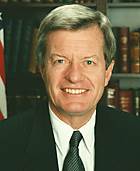 Senate Finance Committee Chairman Max Baucus (D-MT)

The Senate sent a powerful message to a veto-minded White House on Thursday. It passed a war-funding bill that also includes a moratorium on Medicaid provisions nursing home operators find unpopular. The Senate passed the measure 75-22. It needed just 60 votes to make it veto-proof.

Included in the bill are a one-year moratorium on certain rehabilitation payment reductions and six other Medicaid measures.

The bill now goes back to the House, which earlier passed a different version of the bill by a veto-proof count of 349-62. That chamber is expected to take up the measure after the Memorial Day recess.