June 21, 2010
Senate approves Medicare physician pay cut delay as it continues to debate Medicaid provision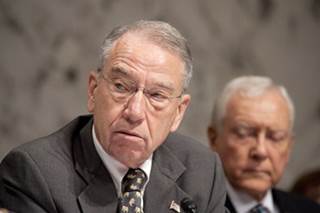 Sen. Charles Grassley (R-IA)
The Senate on Friday approved a measure to delay by six months a cut in Medicare physician pay. Meanwhile, an extension of Medicaid emergency assistance funds remains tied up in debate.
The vote came after Sens. Max Baucus (D-MT) and Charles Grassley (R-IA) agreed to remove the provision from a floundering jobs bill, which also contains the Medicaid extension, as well as jobless benefits. Despite the Senate's approval, the provision must pass thorugh the House and receive President Obama's signature before the pay cuts can be reversed.
Meanwhile, the Centers for Medicare & Medicaid Services earlier on Friday instructed its contractors to begin reimbursing physicians at the reduced rate. It had placed a temporary hold on claims made after June 1, when the cuts took effect. The hold expired Friday.