December 06, 2016
Self-advocacy might protect against workplace rudeness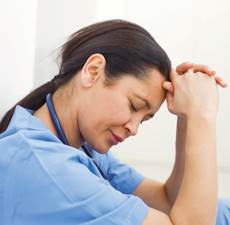 Belief in one's own ability to cope may help boost performance and ensure quality patient care.
A strong sense of self-efficacy can help nurses cope with disrespectful workplace behaviors that otherwise threaten their health and well-being, a study of Canadian workers finds.
Nearly 600 registered nurses were surveyed about their self-efficacy, the perception and experience of workplace incivility, emotional exhaustion and cynicism, mental health and desire to change jobs.
Physician and co-worker incivility significantly affected nurses' emotional exhaustion and cynicism after a year. Nurses who reported greater exhaustion and cynicism at the start of the study later reported poorer mental health.
But results published in Health Care Management Review in October show that a belief in one's capabilities to achieve a goal or an outcome offers a protective role. The more that nurses believed in their ability to cope with stressful interpersonal situations, the less incivility they perceived.
"Nurses' confidence in their ability to handle incivility from team members is a crucial factor in maintaining a unified work group necessary for high-quality patient care," wrote lead author Roberta Fida, Ph.D., lecturer at England's University of East Anglia. "Confidence in their ability to deal with incivility from supervisors is also important."
The researchers recommended providing nurses with mentoring connections with others who manage stressful situations well.