June 27, 2011
Sebelius defends Medicare panel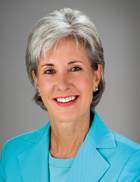 HHS Secretary Kathleen Sebelius
In an editorial published on Politico.com, Health and Human Services Secretary Kathleen Sebelius defended the Affordable Care Act's controversial Independent Payment Advisory Board, which critics charge rations care.
The IPAB was created under the ACA as a means of containing Medicare costs. As Sebelius details, IPAB would comprise a panel of 15 health experts, ranging from physicians, economists, consumer representatives and others, who would recommend Medicare improvements and help prevent fraud and waste. All IPAB members would be appointed by the president and be confirmed by the Senate. Sebelius writes that the panel would be prohibited from raising premiums, cutting back on benefits, altering eligibility or taking any actions that ration care. Congress would have final decision over any actions the board recommends. Sebelius noted that economists and the Congressional Budget Office approve of the IPAB and think it can work.
However, in written testimony to the Senate Finance Committee last Thursday, a former director of what is now the Centers for Medicare & Medicaid Services, Bruce Vladeck, criticized IPAB.
"At the moment, the United States Congress is the court of last resort on payment rates under Medicare to, I think, an excessively detailed degree," wrote Vladeck. "This is a very difficult problem in public administration and I'm not sure the IPAB is the right answer. But I'm very sympathetic to the notion that the Congress hasn't distinguished itself particularly in that regard in recent years, either."