July 06, 2015
Sailing through 'Wish of Lifetime'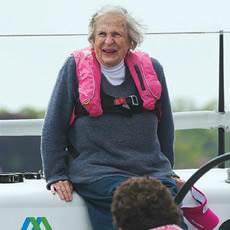 A day in the life
As a little girl, Rhode Island resident Shirley Payne loved to be on the water. From canoeing to rowing, she was frequently found out on Narragansett Bay, New England's largest estuary. When she met her future husband Ken, he helped her develop a passion for sailing.
Now 90, Payne resides in Brookdale's South Kingstown community, where she dreamed of getting back in a boat. The Wish of Lifetime organization, which grants wishes to deserving seniors, helped that dream come true.
On May 15, Team SCA, the only all-female sailing team competing in the around-the-world Volvo Ocean Race, took Payne out on Newport Harbor in a sailboat for about two hours. She met with four of the members while watching others practice for the competition.
"It was simply wonderful," Payne said. "I was very astonished and pleased." Prior to the sail, Payne had lunch with the SCA members who gave her a team shirt. Soon everyone knew who Shirley Payne was, according to Chris Sheil, director of resident programs at South Bay Retirement Living.
"She was the perfect resident [for this opportunity] because she's been on the water her whole life," Sheil said. Since 2008, Wish of a Lifetime has fulfilled over 1,000 dreams. "It was one of the adventures of a lifetime," confirmed Payne.