March 15, 2013
Ryan budget begets testimony on immigrant workers in nursing homes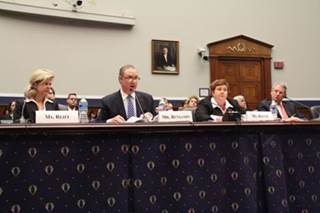 Fred Benjamin
Thursday's Congressional hearing about immigration policy became a forum for discussing how the recently proposed budget from Rep. Paul Ryan (R-WI) would affect long-term care providers.
Fred Benjamin, chairman of the Kansas Health Care Association and COO of Medicalodges, represented the American Health Care Association at the hearing. Testifying in favor of visa regulations to make it easier for nursing homes to hire immigrant workers, Benjamin said "chronic underfunding though Medicare and Medicaid" contributes to staffing challenges. AHCA is asking Congress to loosen visa restrictions so that qualified healthcare workers could fill positions.
Rep. Robert E. Andrews (D-NJ) noted the Ryan budget proposal would cut Medicare spending by 18% over 10 years. Andrews asked if that would make Benjamin's job "easier or harder."
His job would be "all but impossible" if those cuts took effect, Benjamin said.
"I can't understand where we'd be able to save those costs," he added, saying that cutting services is not acceptable, but there's also no room for raising prices for residents, 80% of whom are Medicare or Medicaid beneficiaries.
Following Andrews' comments, Chairman Tim Walberg (R-MI) made subtle references to how the 18% reduction could likely be largely achieved through cutting out waste, fraud and abuse in Medicare payments.