August 28, 2008
Republicans propose expanding home care in party platform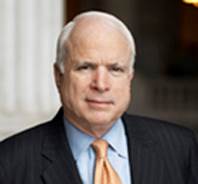 Sen. John McCain (R-AZ)

The draft of the Republican party's 2008 platform calls for new non-institutional long-term care options.

"We must develop new ways to support individuals, not just institutions, so that older Americans can have a real choice whether to stay in their homes," according to the draft released this week. "This is true not only with regard to Medicaid, where we spend $100 billion annually on long term care, but also for those who do not qualify for that assistance."

For the first time since 1996, the party does not call for private long-term care insurance, noted Barbara Manard, vice president of long-term care and health strategies for the American Association of Homes and Services for the Aging. Republicans will vote to ratify the platform at their national convention, which will be held next Monday through Thursday (Sept. 1-4), in St. Paul, MN. The Democratic convention continues through today.