February 04, 2008
Report: Nearly 1 in 10 nurse positions unfilled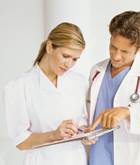 Report: Nearly 1 in 10 nurse positions unfilled

Nearly 8% of full-time equivalent nursing staff positions aren't being filled, according to directors of nursing polled in the newly released Senior Care Digest Interdisciplinary Report.

DONs weren't the only ones talking: Nearly 700 long-term care pharmacists, medical directors and geriatric nurse practitioners responded to surveys sent out by the editors of the 76-page report. They detailed answers on topics as diverse as job satisfaction, Medicare Part D, the use of technology and AMDA clinical practice guidelines. The report is broken down into interdisciplinary issues and job-specific questions.

Published by Kikaku America International, the Senior Care Digest Interdisciplinary Report is part of the Sanofi-aventis Managed Care Digest Series. This year marks its 21st year in publication. A hard copy of the report is available by contacting Sanofi-aventis representatives. For more information, visit http://www.managedcaredigest.com.